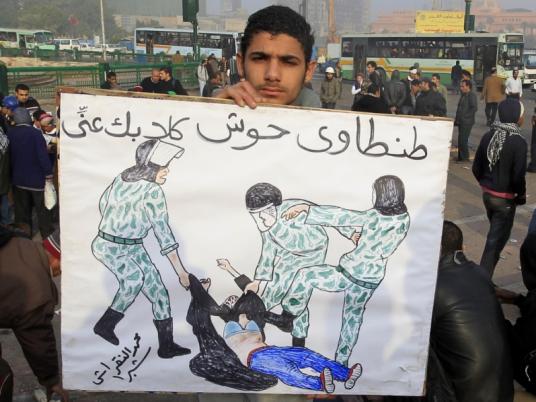 Major General Abdel Moneim Kato, a member of the ruling military council and adviser to the military's Morale Affairs Department, on Tuesday denied any knowledge of the Nasr City Court of Misdemeanors' ruling imposing a LE10,000 fine on him as temporary compensation for inciting hatred, in addition to libel and defamation of protesters.
Kato also denied knowledge of the case filed against him in court, saying it was part of ongoing attempts to tarnish his image and attack him for what he described as his patriotic stances.
In December, rights groups demanded that Kato be tried under Article 171 of the Egyptian Penal Code, which states that anyone inciting a felony or misdemeanor should be sentenced, as they are considered a partner in crime even if no crime is committed. The demand came after Kato made a statement where he suggested that protesters outside the cabinet should be burned in "Hitler's ovens."
Gamal Eid, director of the Arabic Network for Human Rights Information, said the fine imposed by the court on Monday will go to the martyrs of the 25 January revolution.
Eid went on to say that the ruling was a deterrent to anyone tempted to "defame" the protesters. He also criticized what he described as the "terrible silence" on the part of the cabinets of Essam Sharaf and Kamal al- Ganzouri regarding the defamation of protesters and revolutionaries.
"General Kato said protesters should burn in 'Hitler's ovens,' and we waited for the military junta to hold Kato accountable for these crimes, but all it did was publish its 93rd statement in which it denied responsibility for statements made by what it described as 'political commentators and strategists,'" said Eid.
"We immediately filed a lawsuit, as those responsible for such dangerous statements must not escape punishment, especially since the lives and dignity of Egyptians must not be disregarded following the 25 January revolution, which erupted in order to protect the dignity of Egyptians — not to burn them in Hitler's ovens."