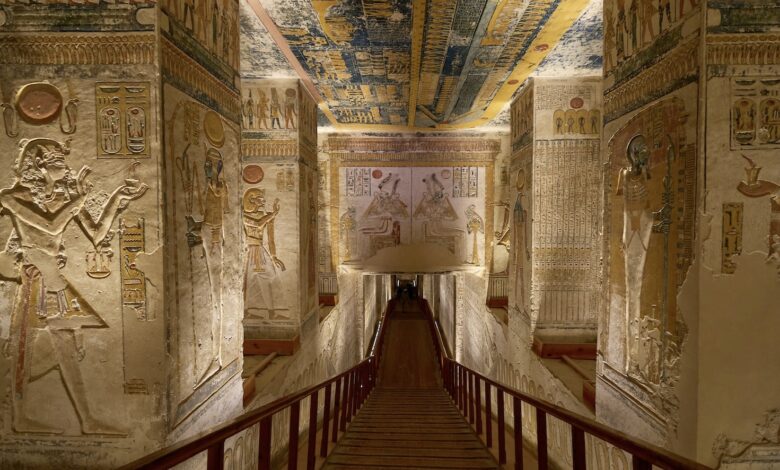 The Daily Mail highlighted the most prominent tourist attractions in the Egypt, in a photo report listing seven reasons to vacation in Egypt.
The report described Egypt as a "time machine" where visitors travel through the tourist and archaeological sites forwards and backward across thousands of years.
Egypt is a vibrant tourist destination with sunny weather all year round, the report added.
The author of the report, Sarah Bridge, referred to her visit to the Great Pyramid and her tour of the vibrant city of Cairo.
She also recounted her visit of the royal mummies at the National Museum of Egyptian Civilization, expressing her admiration for the magnificence of her tour to Egypt, which has been one of her wishes for years.
Pyramids are among the main reasons to choose Egypt for spending a holiday, and it is impossible to visit Egypt without seeing a pyramid or two, she wrote.
The Great Pyramid of Giza is the only one of the Seven Wonders of the ancient world that still remains, Bridge said, and noted the monuments of Abu Sir and Saqqara with its huge archaeological group of tombs, pyramids and temples.
The writer discussed the Nile River, which she dreamed of visiting, and the many large islands in it.
The author added that she took a cruise at night along the Nile River giving her a unique view of the landmarks located on the banks of the river, including international hotels full of shops and cafes.
The Cairo Tower is designed in the shape of a lotus flower, she noted, making it yet another tourist attractions in vibrant Cairo.
The author then talked about her visit to the city of Luxor, where she boarded a boat to tour the Nile River throughout the day, which she called a wonderful experience as she watched the flying air balloons in the early morning rise over the Valley of the Kings.
She touched on the nation's museums, which are rich in artifacts reflecting its heritage.
This includes the National Museum of Egyptian Civilization, which is the first museum in the Arab world to focus entirely on one civilization from prehistoric times to the present time.
The most prominent feature of the museum are the royal mummies, she said, which were transferred from the Egyptian Museum in Tahrir Square in a majestic procession.
She explained that the Grand Egyptian Museum is scheduled to open soon, and will contain a large number of artifacts, including the complete collection of King Tutankhamun's treasures.
The writer also discussed the ancient tombs, calling Luxor vital to learning about the riches of ancient Egypt, especially at the Valley of the Kings, the Valley of the Queens and other temples in Luxor.
And she discussed her visit to the Red Sea, referring to the luxury resorts in the cities of Sharm el-Sheikh, Dahab and Hurghada, which attract tens of thousands of tourists every year to enjoy the sun, clear waters, luxury hotels, marine activities, bazaars, and restaurants.