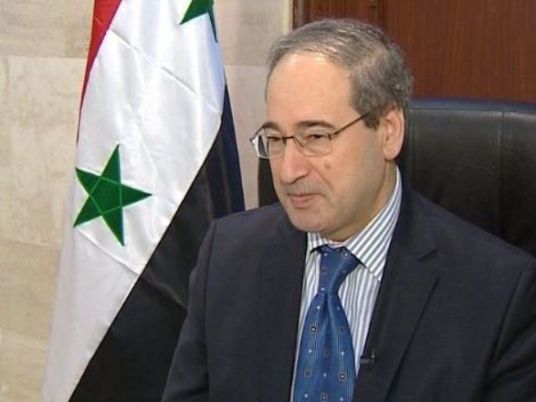 Deputy Syrian Foreign Minister Faisal al-Mekdad welcomed Egypt's stance on Russian military operations in Syria, reported the Syrian Arab News Agency on Thursday.
Mekdad stressed the need to revitalize Syrian-Egyptian relations as both countries are threatend by a common enemy, terrorism.
Mekdad said terrorists should not be able extend their activities to Jordan as they are being hindered in Syria. "If Syria falls, Lebanon and Jordan will fall a few hours later," Mekdad said. Mekdad said countries supporting the Syrian regime would be protecting their own countries from terrorism.
Russia intervened in Syria after the US-led coalition failed to confront terrorism in the country, according to Mekdad.
"Syria and China have a common battle against terrorism. We are ready to accept the role of our Chinese friends in this field," he added.
Russia began launching airstrikes in Syria on September 30, backing the regime of Syrian President Bashar al-Assad.
Edited translation from Al-Masry Al-Youm