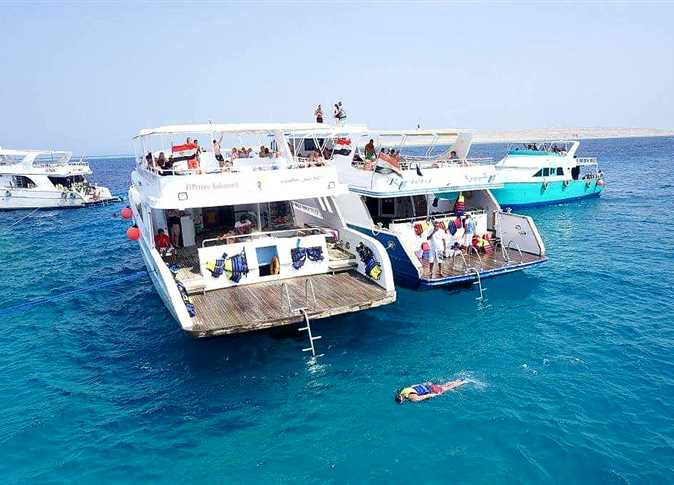 Marine tourism resumed its activities on Friday on the shores of the Red Sea, in Dahab in the South Sinai governorate and Hurghada in Red Sea governorate, bringing back tourists eager to practice diving and snorkeling activities.
The Environment Ministry is preparing to start the second phase of the shark behavior monitoring project.
The Environment Department of the Governorate Headquarters in South Sinai confirmed that it had not received any reports about catching small sharks on the beaches of Tor Sinai.
It explained that if these small fishes are caught, they must be released into the sea again in order to preserve the ecological balance.
The department called on fishermen not to catch prohibited types of fish, and in the event that they are found in fishing nets, they must be returned to the sea.
Tourism Expert Ahmed Badawi added that nature will not deter tourism, as some tourists are used to sharks and will dive in areas known to have them.
Badawi noted that the great white shark does not exist in the Red Sea and is only found in oceans and open seas.
Egypt is moving towards a promising tourism future, he said, especially after climate change, which has Europe more hot in the summer and frosty in the winter.
Shark watching
The Environment Ministry is preparing to start the second phase of the project to monitor the behavior of sharks in Hurghada, by installing tracking and monitoring sensors through satellites in September, as it requires a few months to monitor the behavior of different types of targeted sharks.
The preliminary stage for collecting data on previous incidents, analyzing the current situation, manufacturing sensors to suit the national situation, and training workers in nature reserves to install them has been completed.
The second phase of the project includes analyzing the data collected by the sensors at different time periods.
The study extends for up to 18 months in three phases.
The ministry had announced the end of the preparatory phase of the study being conducted by environmental agencies on the behavior of sharks in Hurghada.