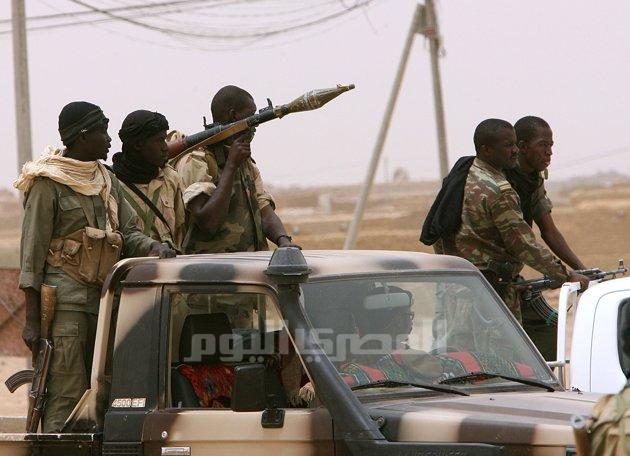 As Al-Qaeda-linked Islamist groups consolidate control in northern Mali, various communities are responding differently to life under occupation, with local political dynamics coming to the fore.
"Right now, the Islamists are in control and things are calm," said Ibrahim Toure, a resident of the northern city of Gao. "Life is hard and we are living day to day, but at least there is no war."
Toure is one of many Gao residents interviewed who welcome the modicum of order provided by the Movement for Unity and Jihad in West Africa, an offshoot of Al-Qaeda in the Islamic Maghreb. In late June, the movement and its allies succeeded in driving a separatist group led by ethnic Tuaregs called the National Movement for the Liberation of Azawad — known by its French initials, MNLA — out of the city.
For much of the local population, the MNLA movement had come to be associated with anarchy, looting and physical abuse.
"You must understand, the people are angry and we do not want Sharia," Toure said. "But the Islamists do not bother you if you follow their rules."
Political paralysis in the capital city of Bamako has left Mali without an effective national government for months. Armed conflict and food shortages in the north have driven more than 400,000 people from their homes, resulting in a refugee crisis that risks destabilizing neighboring countries.
In northern towns such as Timbuktu, groups linked to Al-Qaeda are imposing a strict interpretation of Sharia law that is out of step with Islam as traditionally practiced in Mali. Several UNESCO World Heritage sites, including many of Timbuktu's famous 15th-century mausoleums honoring Sufi Muslim saints, have been destroyed.
African and Western leaders alike are concerned that the area under Islamist control, a vast desert expanse roughly the size of France, might become a safe haven for terrorist groups and criminal networks that could threaten both regional and international security.
While the United Nations Security Council has endorsed West African efforts to solve the crisis, it is yet to approve a 3,000-member military intervention force to be led by the Economic Community of West African States.
So far, the West Africa group has argued that the security issues in the north cannot be solved before institutions in the south are secured and a unity government is formed. The US has voiced support for "swift elections."
Many Malians from the north, however, question such a strategy.
"Fixing the south could take months, maybe more than a year," said Gao resident Moussa Diallo. "How long are we supposed to wait?"
Descent into chaos
Mali, once considered a model of African democracy, collapsed into chaos after low-ranking soldiers ousted President Amadou Toumani Toure — popularly known as ATT — just six weeks before scheduled elections.
The 22 March coup was unanimously condemned by the international community. In an unsuccessful bid to isolate the putschists and trigger a return to constitutional rule, the Economic Community of West African States imposed comprehensive sanctions, including temporary border closures. Several other international organizations and bilateral donors followed suit, suspending non-humanitarian assistance to the aid-dependent West African nation.
In Bamako, the coup prompted a wide range of reactions.
"If you didn't like ATT, why couldn't you wait a few months for elections?" said Bamako resident Abdoulaye Diakite. "Now we are not a democracy."
Though almost all of Mali's major political parties rejected the coup, many citizens welcomed the demise of a government they viewed as corrupt and increasingly ineffective.
"The coup was necessary," said a Bamako-based lawyer who asked not to be named, but described himself as a staunch supporter of democracy. "You cannot change a corrupt system by recycling the political class. You must abandon the system and start over."
Prior to the coup, frustrations with the civilian government had been growing as an assortment of rebel groups attacked military installations in northern Mali. The initial insurgency was led by the MNLA, a movement with the stated goal of establishing an independent state in the north called Azawad. Emboldened by an influx of experienced ethnic Tuareg fighters from Libya, the MNLA achieved a string of surprising military victories in Mali's remote north.
In early February, rebels captured the northern garrison town of Aghelhok. Local reports claimed that Malian soldiers defending the outpost had surrendered after running out of ammunition.
When pictures emerged suggesting that the soldiers had been summarily executed by their captors, hundreds of Malians took to the streets of Bamako. Several Tuareg homes and Tuareg-owned businesses were targeted amid mob violence.
The coup itself was triggered when Defense Minister Sadio Gassama met with disgruntled soldiers at a military base in the city of Kati. By all accounts, the meeting did not go well. A cadre of low-ranking officers chased Gassama from the site and proceeded to Bamako where they occupied the national TV station and took over the presidential palace.
Rebel groups in the north were quick to capitalize on the chaos in Bamako. Less than two weeks after the coup, the Malian military conceded the north in its entirety, leaving weapons, equipment and vehicles behind in a "tactical retreat."
The secular MNLA and its allies of convenience, a Tuareg-led Islamist group called Ansar Dine, swept across the Sahara to seize the three northern capitals of Kidal, Gao and Timbuktu.
Rebel factions emerge
Soon after declaring an independent state of Azawad, MNLA fighters were outmaneuvered by their one-time allies, Ansar Dine. Led by Iyad Ag Ghali, a Tuareg leader whose bid to lead the MNLA was rejected months earlier, Ansar Dine established a working relationship with Al-Qaeda in the Islamic Maghreb and the Movement for Unity and Jihad in West Africa.
Though it is unclear to what extent these groups are allied based on ideology or opportunity, they did work in concert to chase the MNLA out of all major towns in the north.
Despite coordinated efforts by regional governments and their US and European counterparts, Al-Qaeda in the Islamic Maghreb has been operating in the region for more than a decade. The group is believed to have amassed tens of millions of dollars, potentially more, through ransom payments for Western hostages and access to criminal trafficking networks, including the main corridor of cocaine to Europe.
Mali's neighbors, specifically Algeria, Mauritania and Niger, are particularly concerned. All three countries have clashed with Al-Qaeda in the Islamic Maghreb in the past and fear that ungoverned portions of the Sahara will be exploited by groups that seek to overthrow their respective governments.
Local solutions
Northern Mali is home to several ethnic groups, none of which constitute a majority of the northern population. In lieu of action by the international community or the government in Bamako, some northern communities and local organizations are seeking alternative mechanisms for ameliorating the crisis.
In Gao, for example, several sources confirmed that community leaders and civil society representatives are establishing forums throughout the region to facilitate negotiations with the Movement for Unity and Jihad in West Africa.
"Dialogue is the only realistic tool at our disposal," said local professor and community organizer Kata Data Alhousseini Maiga. "We have waited four months for the international community to respond, we can't wait any longer."
While northern Malians are unified by a sense of urgency, not all agree that dialogue is the best course of action.
"We must prevent Mali from being an African Afghanistan," said a Timbuktu native who asked to remain anonymous, and suggested Gao residents would be less likely to negotiate with Islamists if their shrines were being destroyed.
"Military intervention is the best idea," he continued. "Otherwise, the more [Islamist groups] stay there, the stronger they will be and we cannot find peace without fighting and we should not negotiate because they are a branch of [Al-Qaeda in the Islamic Maghreb]."
The newly formed Forces Patriotiques de Resistance, a group composed of six ethnic- and regionally based militias, is one of the organizations advocating for armed intervention in the north. Its leader, Harouna Toureh, is a Bamako-based lawyer associated with the notorious Ganda Koy militia, which has participated in past armed conflicts in northern Mali.
Over the last week, Toureh held several press conferences claiming that the group is prepared to re-conquer the north, having assembled more than a thousand men and women from all over Mali who are training in different locations.
Several civil society activists in the north, however, have expressed concerns about the group and questioned its understanding of the situation on the ground.
"They are in Bamako, in nice, air-conditioned rooms," said Maiga. "It is us, those who stayed in the north, who will suffer in the case of war."
A solution would have to be multi-faceted, he said.
"Gao and Timbuktu are two different situations, with different groups. The north is complex," Maiga said. "Solutions must be local. Initiatives must be local. A military intervention managed from afar will never lead to durable solutions."