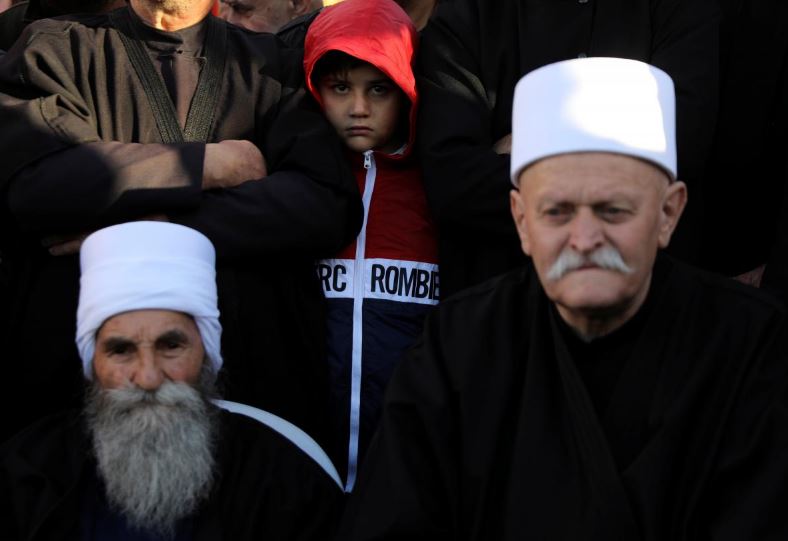 MAJDAL SHAMS, Golan Heights (Reuters) – Hundreds of Druze Arabs, some carrying Syrian flags, gathered outside the gates of a polling station on the Israeli-occupied Golan Heights on Tuesday, trying to block their townspeople from voting in municipal elections.
Israeli police wearing helmets and carrying tear gas launchers cleared a path for would-be voters (PICTURED) outside the balloting center in Majdal Shams.
The town is the largest Druze community in the area of mountainous plateau that Israel captured from Syria in a 1967 war, unilaterally annexing it in 1981 in a move not recognized internationally.
"The Golan's identity is Arab and Syrian," chanted the protesters as they put a banner on the entrance reading: "No to elections."
Inside the building election officials sat in mostly empty rooms with blue ballot boxes bearing Israeli insignia.
Some voters made it past the protest.
"It's my right to vote. I'm free to choose the right person," said one man as he emerged from the polling station carrying a child. Glancing at the crowd, he refused to give his name.
The Druze are a fiercely independent Arab minority who practice an offshoot of Islam. Around 22,000 Druze live on the Israeli-occupied Golan.
Israel, seeking to further integrate them, has offered citizenship but most Druze rejected it. Many regard themselves as Syrian, even after more than half a century of life under Israeli rule.
After an election eve town center meeting and march featuring dozens of rainbow Druze flags, the community's elders issued a prohibition against candidates standing and people voting, threatening to make outcasts of anyone who took part.
"Candidates and those who come to vote will have a religious and social prohibition put upon them," said Sheikh Khamis Khanjar. "What bigger punishment is there than this?"
Many Druze have enjoyed economic prosperity on the other side of the front line from their brethren in war-torn Syria.
"When you are in a state that is giving you all your rights, why wouldn't you vote," said Sahar Said Ahmed as she watched the election eve protest in a town square dominated by the statue of a Druze leader who fought French forces during the colonial era.