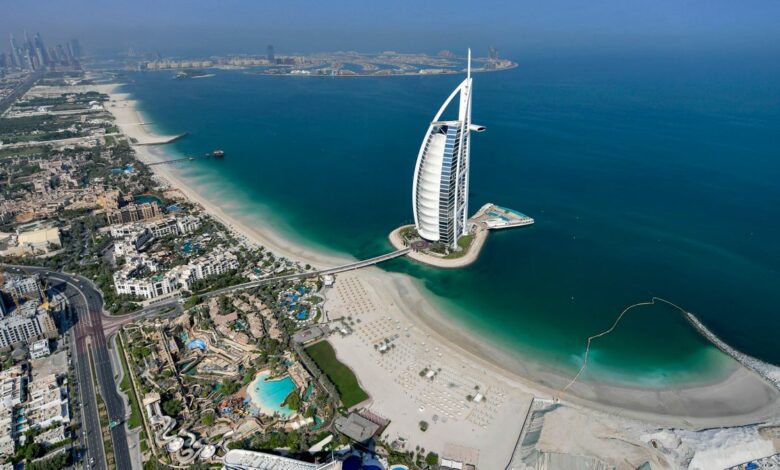 Skyports, a global developer of vertical port infrastructure, and Vertiport, one of the key partners in the development of Dubai's flying taxi project, has announced that the city is exceptionally positioned to become the first city in the world to offer integrated electric air taxi services.
Operations are set to begin by 2026 through four major vertical ports distributed over four strategic locations – Dubai International Airport, Palm Jumeirah, Dubai Marina and Dubai Downtown.
Air taxi vehicles are characterized by the possibility of vertical takeoff and landing. They are sustainable and environmentally friendly, being powered by electricity.
They are also guarantee safety, comfort and speed, with a maximum range of 241.4 km and a maximum speed of 300 km per hour.
Its capacity can accommodate four passengers in addition to the air taxi driver.
من القمة العالمية للحكومات .. اعتمدنا اليوم تصميم محطات التاكسي الجوي الجديدة في دبي .. والتي ستبدأ عملها خلال ٣ سنوات .. pic.twitter.com/tGQyPFVDUD

— HH Sheikh Mohammed (@HHShkMohd) February 12, 2023
The Director General of Roads and Transport Authority in Dubai, Mattar al-Tayer, said in a statement this aims to provide a new transportation service using innovative technology that facilitates urban transportation in a safe, smooth and sustainable way integrated with the public transportation network in Dubai.
The launch of the service depends on the readiness of companies and the necessary legislation to operate air vehicles, as well as examining all aspects related to the operation process and verifying that all aspects of security and safety are met.
The air taxi stations include take-off and landing areas, a designated area for passengers and security procedures, and electric charging facilities.