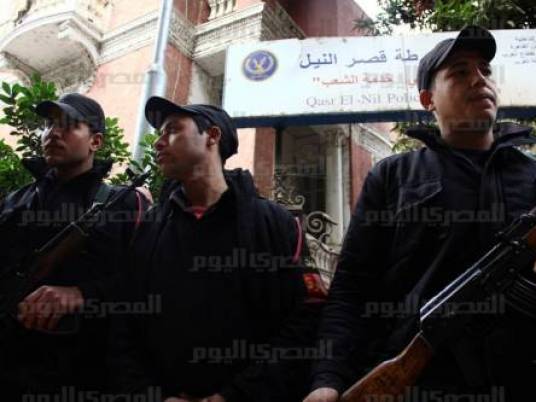 When the Egyptian army moved in on a workers' sit-in outside the Suez Steel plant on 12 August, armoured vehicles surrounded the site and troops shut down the protest. It's now an all too-familiar tactic in turbulent post-Morsy Egypt.
Army troops arrested two, who were later released on bail, while police officers later arrested another four workers on 20 August.
Strike leaders have since reported being hounded by authorities, led by owner, Lebanese businessman Rafiq Daou, who has demanded the police and army prosecute supposed troublemakers. 15 were suspended from work.
The state-owned Al-Ahram newspaper reported on Thursday that workers had agreed to return to work providing Suez governor agreed to release detained and suspended colleagues. Otherwise, strikes could continue, they warned.
Now suspicions that workers' rights may not be a priority for the new government are growing amid security concerns and initial signs the administration may not be as pro-labour as was initially thought.
Continuing instability, as security forces continue a nationwide crackdown on the Muslim Brotherhood, and a national economy in the doldrums, suggest hopes for a more progressive labour law in Egypt may be pushed to the sidelines.
This week, Manpower Minister Kamal Abu Eita earlier said his ministry was "finalizing a draft law on trade union freedoms," which would be submitted to the Cabinet "as soon as possible."
"These drafts were advocated by the 25 January and 30 June revolutions," he claimed on Monday.
The law is based on an earlier piece of legislation drawn up in the wake of Egypt's 2011 revolution.
"Kamal Abu Eita joined the Cabinet and promised that the law on trade union freedoms, which had been drafted by Ahmed al-Borei when he had been interim minister of manpower and immigration back in 2011, would soon be adopted," Joel Beinin, Stanford University history professor and an expert on the Egyptian labour movement, explained. "It hasn't yet been."
Beinin also pointed to another draft law, which would raise Egypt's minimum wage to LE15,000, as not having become a reality.
A source from the Egyptian Trade Union Federation (ETUF), Egypt's state-controlled union, stressed talks on the legislation between labour leaders and the ministry were ongoing. Discussions would be "comprehensive," the source claimed.
Many expect Abu Eita's new legislation to follow the earlier law. One of the key provisions of that law would enshrine the right to establish independent unions in Egypt.
Independent bodies have grown in size and strength since the revolution, partly out of the view that the monolithic state-controlled ETUF was a remnant of the Mubarak regime, an attempt by the Egyptian state to monopolize and co-opt a more progressive labour movement.
ETUF President Gebaly al-Maraghy told Egypt Independent the union would have to form a major role in drafting any new legislation.
"We are determined to see this law passed only after the approval of the ETUF," he said. "It is the only way to pass through parliament, which will be elected in the next few months."
A joint meeting with union representatives, chaired by Meraghy, would then review proposals from Egypt's various trade union bodies, an ETUF source added.
When asked if the law's provisions for establishing new, independent unions, ETUF's international relations director, Mostafa Rostom, stressed the union was not worried about losing influence.
"The new labour law will give any person the chance to establish new trade unions," he told Egypt Independent. "[But] ETUF has a lot of power still, even after the revolution."
Mohamed Abdine, legal representative for the Egyptian Federation of Independent Trade Unions (EFITU), meanwhile said: "[The union] advocates independence from the government, and hopes the government – whoever leads it – will not intervene in [EFITU's] work."
"The draft law should primarily be in line with Egypt's international obligations relating to freedom of association," he added.
Abu Eita headed the Egyptian Federation of Independent Trade Unions (EFITU), a breakaway syndicate established in the wake of the January 2011 revolution, until he accepted the post as manpower minister in Hazem al-Beblawy's government last month.
And yet many suggested the presence of a labour movement veteran in the Cabinet, with 11 of the total 34 ministers considered Mubarak-era officials, could tip the balance in government in favour or workers' rights.
"[Abu Eita's] now in a position where he's part of a cabinet that's not particularly pro-labour, in fact there are several prominent former Mubarak types in the Cabinet," Beinin told Egypt Independent.
"I don't doubt whatsoever that he wants to push through [a progressive labour agenda], but I would be very surprised if he can succeed given the balance of forces now."
Cracks are beginning to show. After the army-sponsored crackdown on striking steelworkers in Suez, workers have threatened another walk-out. Egypt's independent unions are also becoming more critical of the interim administration.
EFITU Executive Committee member Fatma Ramadan recently wrote a searing criticism of the June 30 overthrow of Mohamed Morsy, claiming it had become a cover for creeping military control and the return of Mubarak-era officials in government.
"We are thus faced with jumping out of the frying pan into the fire," she wrote. "The Muslim Brotherhood committed crimes and it must be held accountable and prosecuted for them, just like police and army officers and men of the Mubarak regime must be held accountable and prosecuted for their crimes."
"Do not be fooled into replacing a religious dictatorship with a military dictatorship."
The Suez crackdown, rivalries between Egypt's state-controlled and independent unions and an unresolved relationship with the country's military-sponsored regime have placed the labour movement in a potentially uncomfortable position.
EFITU's Abdine told Egypt Independent: "Acts of intimidation will not work anymore, under any government."
The union would hold Beblawy's government responsible for whatever happens with the workers in Suez, he added.
April 6 Youth Movement organizer Ayman Abdelmeguid suggested a middleground, between worker and state, would be the best way forward for Egypt.
"We're not looking for communism here, but we're not looking for predatory capitalism [either]," he claimed.
Abdelmeguid acknowledged that "extreme violence" was used in dispersing the Suez strike, but expressed hopes that Abu Eita could pull through.
"[The minister] has a lot of years under his belt for standing up for the rights of workers and social justice, so we have hope he will be able to do something."
"As for the situation in Suez, let's call it a political mistake made under pressure," he added.
And yet any hopes for a new law must also take into account Egypt's unpredictable political and economic outlook.
"From a business perspective, to be frank, one of Egypt's most attractive qualities is that it provides cheap labour for international companies," Farah Halime from Rebel Economy said. "So if you have wages increasing year on year, and a population asking for more and so on, you get a less attractive environment for international investors."
"From those two avenues of conflict, you have a proposed solution. If you speak to the International Labour Organization (ILO) and others, the medium ground is to provide better benefits for Egyptian workers," Halime argued.
"That means working more stable hours, health benefits, proper safety in factories – basic requirements we take for granted in the West but which are very much missing in Egypt."
Beinin, meanwhile, is less optimistic.
"There are several signs that the old regime has re-installed itself with full force," he said. "What we're seeing is the resurgence of the deep state, and the sort of people who have a highly paternalistic and elite-centred conception of Egypt and Egyptian politics, [who] don't imagine that workers or anybody else have inalienable rights [and think] they themselves are the ones who are legitimately in power to expand or limit the rights of citizens for reasons of national security."
"This is going to continue, and the workers' movement will likely be targeted at some point, whether it can overcome its internal divisions and gaining some political clarity is an open question."