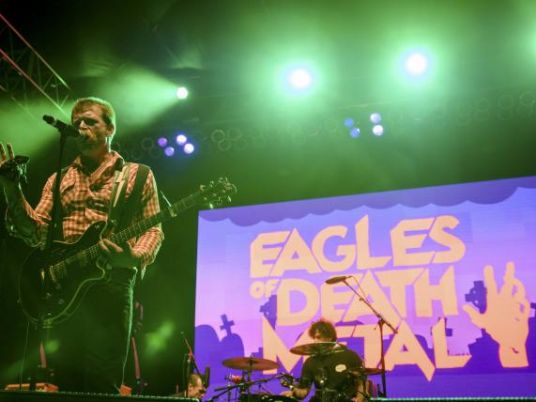 Eagles of Death Metal, whose gig was targeted during terror attacks in Paris last month, will return to the stage Sunday in the French capital with U2, Billboard magazine reported.
The California band will join U2 for the Irish rockers' final song at the AccorHotels Arena, also known as Bercy, Billboard said, in what promises to be a highly emotional moment for both bands and the thousands in the crowd.
Eagles of Death Metal, which was largely unknown until the attacks, will resume its halted European tour in February.
Sunday's performance will include Eagles of Death Metal co-founder Josh Homme, who rarely tours with the band and was absent during the November 13 attack at the Bataclan theater, where 89 people were killed.
Eagles of Death Metal has already said it wants to be the first to play the Bataclan when it reopens.
U2's performances on Sunday and Monday were originally scheduled for November 14 and 15 but were postponed after the attacks, which were claimed by the extremist Islamic State group.
Gunmen attacked nearly simultaneously targets across Paris, killing 130 people in total.
The band sat down for a full interview with Vice.com in Los Angeles last month after returning to America following the carnage.
They detailed the instant decisions they took to save their lives and the horrors they saw as the gunmen emptied round after round indiscriminately into the crowd.
U2 frontman Bono told The New York Times that his band had helped Eagles of Death Metal in the aftermath of the attacks, including buying the rockers new phones since their phones had been left inside the venue.
U2 also provided counseling and offered Eagles of Death Metal use of its plane.