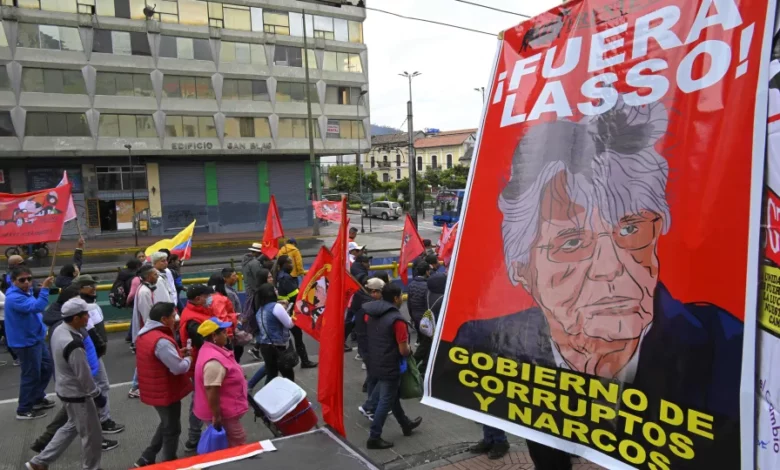 Ecuador was known as the "isla de paz" – an island of peace – in the 1980s, when compared to its neighbors Colombia and Peru, some of the world's biggest producers of cocaine.
But a deadly escalation of violence has upended that reputation in past few years, as rights groups say the Andean nation has clocked some of the highest homicide rates in the region.
In April alone, the country has seen a prison riot, explosions in the port city of Guayaquil, and the slaying of at least nine people during an armed attack of a fishing port.
Civilians are finding themselves caught between criminal groups battling for control of the cocaine supply chain, which passes through Ecuador, according to Glaeldys González, an expert on organized crime at the International Crisis Group.
And Ecuadorian authorities have struggled to tackle this public security crisis "efficiently because it is mired in (a) political crisis," González says.
Ecuador's President Guillermo Lasso is at the center of this storm, and his popularity has tanked amid widespread discontent with spiraling crime rates.
"Lasso has not delivered" on campaign promises of lower taxes and more foreign direct investment, said Luis Ortiz, an Ecuadorian political analyst and development consultant. Nor has he has not been able to convey a successful strategy to stop the violence, he added.
Lasso faces an impeachment vote in the next few weeks over accusations of embezzlement before he took office by opposition legislators – allegations which Lasso denies.
Dealt a bad hand
It was not always so hard for the self-made millionaire, who ran on a platform of liberal values before coming into power in 2021, promising more foreign direct investment and encouragement of entrepreneurship. He was lauded for a successful Covid-19 vaccination drive at the start of his term, enjoying high approval ratings at the time.
It went downhill soon after.
Lasso survived an impeachment attempt amid weeks-long protests over rising fuel and food prices last year, and his name emerged in the "Pandora Papers," a 2021 expose of financial secrets and offshore dealings of dozens of heads of state and public officials.
Ecuadoran law prohibits public servants from holding assets in tax havens. Lasso told Ecuador's legislative commission investigating him that he had not evaded taxes and that his tax trajectory was legally supported.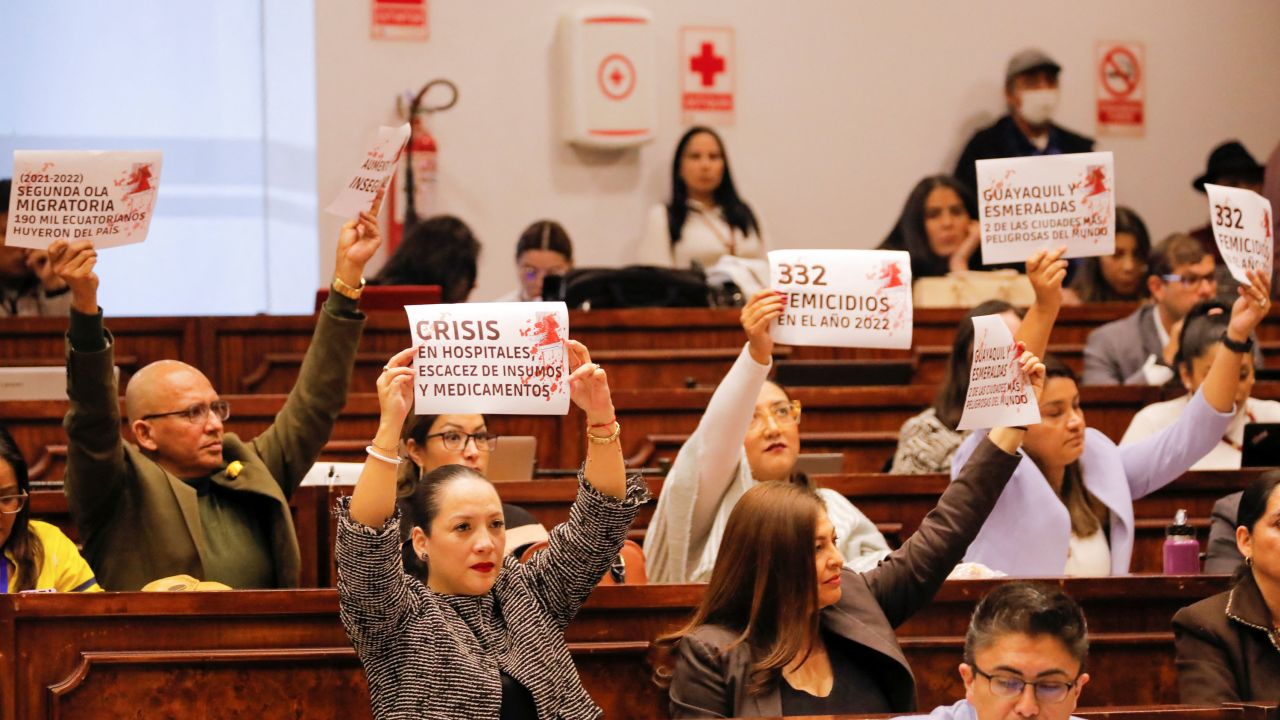 But opposition lawmakers have renewed their efforts to impeach him, and the President's popular support is evaporating as crime skyrockets.
The dramatic rise in crime that has fueled anger at his government is a trend that predated his presidency. Before Lasso took office, Ecuador had already become a key transit hub for cocaine due to its location between Peru and Colombia, and the dollarization of its economy in 2000 made it an easy location to launder money, say analysts.
But the controls needed to stop organized crime were kneecapped by austerity measures put in place by his predecessor, Lenin Moreno, that led to massive layoffs in the public sector and budget cuts, Ortiz told CNN.
"The judicial system, the institution that oversees bank transfers and bank transactions – they don't even have money to make photocopies, much less track transactions that could potentially be linked to organized crime," he said.
Allegations of corruption have also marred the courts and police, with the US withdrawing visas from high-ranking officers of Ecuadorian state security forces, alleged to be linked to drug trafficking, and several judges and lawyers.
Lasso, who has a weak mandate in Congress and has struggled to build coalitions, has implemented several state of emergencies to tamp the bloodletting in the country, which has seen hundreds killed in brutal prison riots between rival gangs, to very little success, say critics.
His approach has become more haphazard following the second impeachment attempt. Last week, he declared organized criminal groups as terrorists, a move that empowered the military in pursuing gangs – despite allegations of corruption that cloud the security forces.
His embrace of his predecessor's austerity package has seen Lasso incentivize the private sector to step in on security issues, which Ortiz described as being a disaster.
This includes Lasso's recent authorization of civilians to use guns, a move which saw "private security companies (becoming) the first to raise their hand to say: 'hey, no way, what we are seeing right now is criminals is more equipped than police,'" Ortiz said.
Fraying relationships
The mood further soured against Lasso this year when Ecuadorian media outlet La Posta accused the president's brother-in-law Danilo Carrera of corruption, including a cash for executive positions scheme and fake energy contracts.
Following the report, Lasso asked prosecutors to investigate Carrera over his business and personal relationship with Ruben Cherres – whom authorities sought to arrest but was found murdered in late March.
CNN has reached out to Carrera for comment.
The center-right leader is one of the few friends Washington has in the region, but even that relationship may be fraying.
While several US senators have lauded Lasso, and Secretary of State Antony Blinken noted the US's strong partnership with the country during a 2021 visit. But in April, a group US Congressmembers sent a letter to US President Joe Biden urging him to "re-evaluate our government's close relations with the Lasso government" and look into the corruption allegations surrounding Lasso and his associates.
Lasso would be replaced by Vice President Alfredo Borrero if impeached, but he suggested to the Financial Times last week that it won't get that far, saying he would invoke a constitutional clause that would force elections for his role and congress.
The gambit would see Lasso rule by presidential decree and hold elections in six months' time, and critics can see why Lasso might be tempted to opt for the nuclear option.
"If the opposition's got the 92 votes that they need to get rid of him, he's going to press that button and give himself six months to find a way out," Guillaume Long, a former foreign minister for Ecuador who is now a senior policy analyst at the Center for Economic and Policy Research.
If early elections are triggered, the 67-year-old Lasso has said he will run again despite losing a lot of political capital. In February, opposition parties won key mayoral positions in Quito and Guayaquil and a Lasso-backed referendum on eight reforms, including allowing the extradition of criminals, failed.
As the clock runs on Lasso's next move, violence and economic insecurity are leading more Ecuadorians to leave the country, with statistics showing thousands making their way north through the treacherous Darien Gap this year.