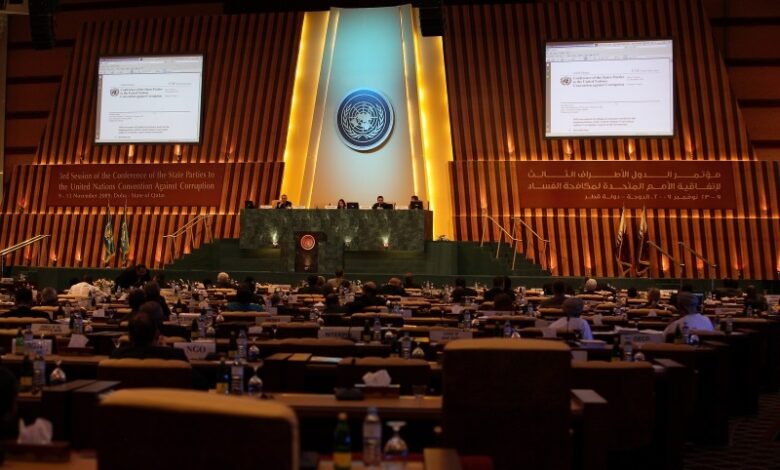 On Monday Egypt will host the ninth session of the Conference of the States Parties to the United Nations Convention against Corruption, which is the largest event in the field of preventing and combating corruption in the world. The session continues through to December 17.
The conference is one of the most important international conferences that brings together member states, parliamentarians, international, regional and non-governmental organizations, civil society and the private sector, to discuss issues related to combating corruption. The conference will review the implementation of the United Nations Convention against Corruption, which is the only binding global legal document that represents an anti-corruption tool.
The United Nations Convention against Corruption is the global reference for combating corruption and how to cooperate between countries of the world in related fields.
Egypt joined the agreement in December 2003, believing in the importance of international cooperation to prevent corrupt practices around the world.
Representatives from 160 countries will participate in the conference to discuss ways to reduce corruption in all its forms and strengthen relevant national institutions, through international cooperation, in an effort to build capacities at all levels, especially in developing countries.
The states parties meet every two years to review the implementation of the agreement and discuss ways to improve cooperation to achieve the goals of the agreement.
The previous session was hosted by the United Arab Emirates, and the next version will be hosted by the United States of America.
The ninth edition of the conference will also discuss ways to enhance international cooperation in order to better confront all forms of corruption, and ways to recover impartially from the COVID-19 pandemic, and to move forward after the special session of the United Nations General Assembly against Corruption held in June.
More than 1,000 people are expected to attend, including many high-level participants, from governments, regional and intergovernmental organizations and civil society.