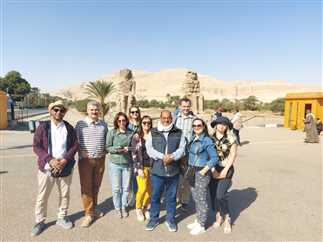 The Egyptian Tourism Authority hosted a Ukrainian press delegation featuring representatives of the biggest newspapers, news agencies and TV channels in Ukraine, who will visit tourist cities across Egypt.
Their tour will showcase the variety of sights that Egyptian tourist destinations have to offer, from scenic locations to archaeological finds.
The Ukrainian market is one of the most important tourist markets for Egypt, and was one of the first countries to resume tourism following Egypt's resumption of travel in July 2020.
The Head of the Central Department of Foreign Tourism at the authority Maged Abu Sedira said that this comes under the strategy of the Tourism and Antiquities Ministry to promote Egyptian tourist destination through the use of many effective promotional tools.
Members of the delegation visited the Giza Pyramids and the National Museum of Egyptian Civilization in Fustat during their stay in Cairo, he said. They also headed to the city of Aswan, where they toured some archaeological sites, including the Philae Temple and the Nubian Museum.
After their visit to the city of Aswan, the delegation took a Nile cruise from Aswan to Luxor, during which they visited the temples of Kom Ombo, Edfu, and Esna.
During their stay in Luxor, they also visited some archaeological sites on the West Bank of the Nile river, the Karnak temples and Luxor Temple.
According to Sedira, the delegation visited Hurghada as well to inspect precautionary measures taken by the Egyptian Government to ensure the health and safety of all citizens, tourists and tourism workers – especially as Hurghada is one of the biggest destinations preferred by Ukrainian tourists.