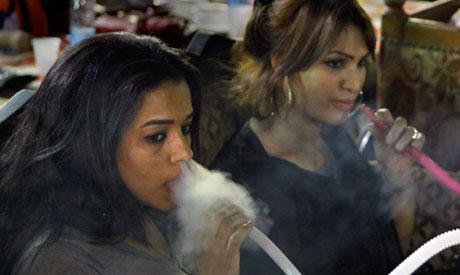 Non-smokers in Egypt can soon have cause to celebrate as the government is currently pushing to regulate sisha-smoking in cafes and restaurants around the bustle of Egypt's cities.
The Alexandria-based Center for Environmental Affairs submitted a request last week to the Ministry of Health and Ministry of Environment to regulate shisha cafes and restaurants, so that they must obtain a license in order to offer shisha to their customers, as well as mandate building a physical wall between smoking and non-smoking areas, and allocate a maximum indoor area of 100-square meters for smokers.
Mohamed Saloma, head of the center, said that the new regulation is scheduled to come into effect within the next two months, adding that the center will brief the cafes department of Alexandria's Chamber of Commerce with the details of the new regulation and its contents.
This decision came after cafe owners met with representatives of the Environment Ministry to negotiate the issue of indoor smoking.
According to a recent study on shisha smokers conducted by CAPMAS, Egypt's official statistics agency, 81 percent were found to be spending 10 percent of their income on daily shisha consumption.
In December, Egypt's parliament was discussing a new law that would stipulate stricter control on smoking shisha in public cafes and restaurants by issuing licenses for the cafes and restaurants that serve it.
The news stirred controversy among smokers and non-smokers around the country. Mirna Ibrahim, a 28 year old smoker told Egypt Independent that if the law is actually implemented, it would greatly influence the areas where she usually goes to for shisha.
"I order shisha every cafe I go to, so having to sit in a closed area of 100 square meters along with other people who also smoke as per the new law seems absurd to me," Ibrahim said.
Meanwhile, Yassin Omar, a 45 year old smoker, begs to disagree with Ibrahim's sentiments.
"I believe the decision is practical and is one step on the right path to ensure non-smokers are not suffocated everywhere they go by shisha or the vape," Omar said.