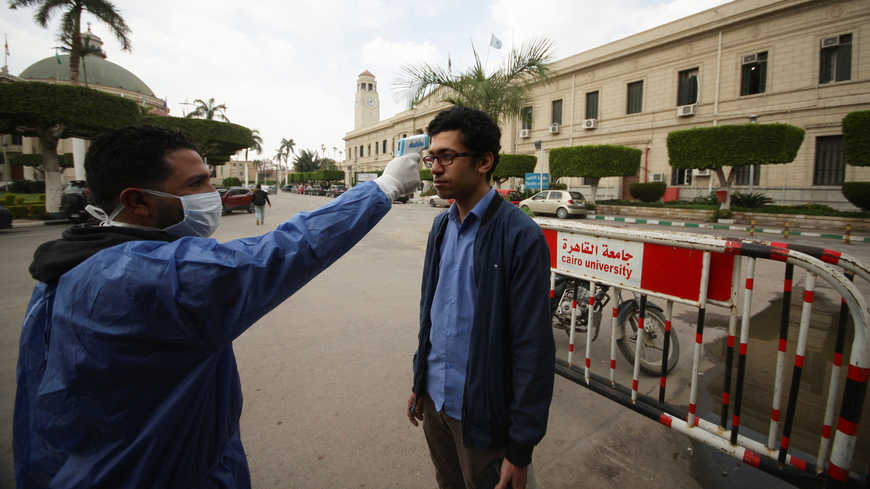 Egypt's Prime Minister Mostafa Madbouly imposed a two-week nationwide curfew from 7 pm until 6 am beginning on Wednesday and extended school closures an additional two weeks to fight the spread of coronavirus.
During a press conference on Tuesday, Madbouly also announced that shops will be closed from 5 pm until 6 am during the week, while all stores will be subjected to a complete shutdown on Fridays and Saturdays. All means of public and private transportation are suspended during curfew hours.
The closure decisions do not include bakeries, pharmacies, grocery stores or supermarkets outside shopping centers, Madbouly said, adding that restaurants will be limited to home delivery only.
The new measures announced on Tuesday also include the suspension of schools and universities across the country for two more weeks starting Wednesday, as well as the closure of all cafes, bars, cafeterias, and restaurants nationwide all day.
Meanwhile, Information Minister Osama Haikal said that journalisits, media workers, doctors, and healthcare and emergency services workers are exempt from the curfew.
The Prime Minister has also suspended cultural activities, work at notary offices, and traffic department services.
Egypt's President Abdel Fattah al-Sisi announced earlier on Tuesday through his official page on Facebook and Twitter that the government had been instructed to take additional steps to stop the spread of the virus.
President Sisi underlined that Egyptians would still be able to access their daily needs despite the new measures.
Madbouly has instructed Egypt's Interior Ministry to remain "firm and decisive" in dealing with any citizen who violates the curfew or any other measures against the spread of the virus, with violators facing penalties from a fine of LE 4,000 to imprisonment.
In response, the Interior Ministry announced on Tuesday that it had put all its bodies on high alert to implement President Sisi's directives.
The ministry said in a statement that it had prepared a plan to deploy officers nationwide during the curfew period.
Egypt's government initially shut down schools and universities on March 15 and has suspended flights from March 19 until March 31.
Authorities also initially moved to close restaurants, cafes, bars, and commercial establishments from 7 pm to 6 am each evening through March 31, with those establishments having remained open during the day hours.
Museums and tourist sites across the country have closed down from March 23 until March 31 and are currently being sanitized, while employees in hotels and resorts in Cairo and Giza have been reduced by half.
Authorities suspended Friday prayers and congregational prayers in mosques nationwide on March 21 and churches were closed across the country over the weekend as well.
Egypt announced on Monday 39 new coronavirus cases and five additional deaths, bringing the total number of cases confirmed so far in the country to 366.
Nineteen people have died from the virus in Egypt, as well as two senior military officers.
There have been over 384,429 confirmed cases of coronavirus worldwide and upwards of 16,591 deaths.
Image: In this photo from March 15, 2020, a medical staff member in protective gear checks temperatures at Cairo University during the coronavirus outbreak, in Cairo, Egypt (Reuters)