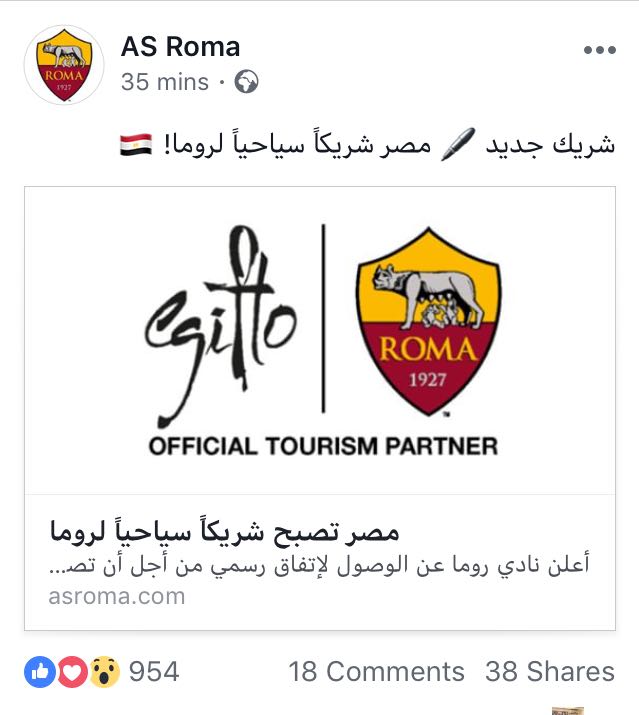 Egypt will launch a promotional campaign with the Italian football team AS Roma with the aim to lure Italian tourists to the country, Egypt's tourism ministry said on Saturday.
The ministry said the ad campaign started during AS Roma's match against Napoli on Saturday, and will continue during the Italian team's home games until the end of the season.
The advertisements will be placed around the stadium and on the team's radio station, and a promotional video will be shown on the stadium's mega screens.
Competitions will also take place on the team's radio station, with the winners awarded trips to the Egyptian resorts of Sharm El-Sheikh, Marsa Alam, Luxor, Aswan, and Matrouh.
The Italian club's star, Egyptian, Stephan El-Shaarawy, nicknamed Il Faraone (The Pharaoh), will be the face of the campaign.
The advertisements will also be aired on Italian sports channels Sky Calico.
The move by the Egyptian tourism ministry comes one day after it signed a strategic partnership agreement with the Italian tourism federation Fiavet that will see a six-month promotional campaign involving 1,000 Italian tourism companies.
Tourism Minister Yehia Rashed said last week that he agreed with Italian Deputy Minister of Culture Dorina Bianchi to ink a cooperation protocol to promote the country's ailing tourism industry.
In a press release, Rashed stressed the importance of the protocol that will contribute to boosting the incoming tourism from Italy, as they met on the sidelines of a meeting held on Saturday with Bianchi in the presence of Egyptian Ambassador Hisham Badr.
The agreement is part of efforts by Egypt to revive tourism to the country, which suffered major blows after the 2011 uprising and the 2015 crash of a Russian airliner in Sinai.
Earlier this month, the ministry launched a campaign with CNN to promote tourism to the country around the world.
The ministry said in a statement that an advertisement will be aired in Europe, the Middle East and Africa during the channel's weather forecast, for which Egypt will be the main sponsor.