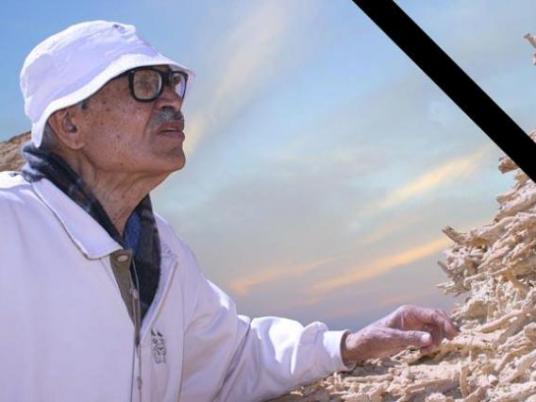 The environmental and scientific communities in Egypt are mourning the death of one of its most renowned colleagues and friends, Mohamed Kassas.
The 91-year-old, considered "the father of Egypt's environment," died this morning after spending more than a week in Manal Hospital.
The botany professor at Cairo University was the first to dub the term "desertification" and to warn the global community of its threats in 1969 at an international conference on arid lands in Virginia.
Born in 1921 in a fishermen's village nestled between Lake Burullos and the Mediterranean, Kassas developed an early and acute interest for biodiversity and nature.
His early fascination for plants and animals of the lake's shores led him to enroll in a scientific program at Cairo University in 1940, where he chose to major in botany.
The deserts surrounding Cairo encouraged him to study plant ecology in arid environments, which subsequently aroused his curiosity for what he would later call the "desertification" process.
Desertification refers to the degradation of land, either by natural causes such as drought and high salt levels in the water, or by human action such as unsound drainage, overgrazing and general mismanagement of arable lands.
It was during the three years he spent as a botany professor at Khartoum University in the '50s that he noticed the degradation of Sudan's vegetation belt and warned the international community of this threat.
Curbing desertification then became a priority on the agendas of South American, African, Asian countries and the US, whose arid lands were not spared by this process. In 1977, the United Nations held the first world conference on desertification in Nairobi.
In 1978, Kassas became the president of the International Union for Conservation of Nature, the world's oldest and largest environmental network, which gathers 1,000 governmental and non-governmental organizations, along with 11,000 volunteers from 160 countries worldwide.
In 1981, he was appointed member of the Shura Council, where he lobbied and spurred interest on Egypt's major environmental issues, and raised funds to develop NGOs and institutions within universities focusing on environmental matters.
Until his health started to deteriorate, Kassas received fellow scientists, environmentalists, students and journalists in his paper-crammed office at Cairo University, and continued to offer his particularly sharp insight on Egypt's environmental struggle.
His funeral is being held in downtown Cairo's Omar Makram Mosque on Wednesday after noon prayer.