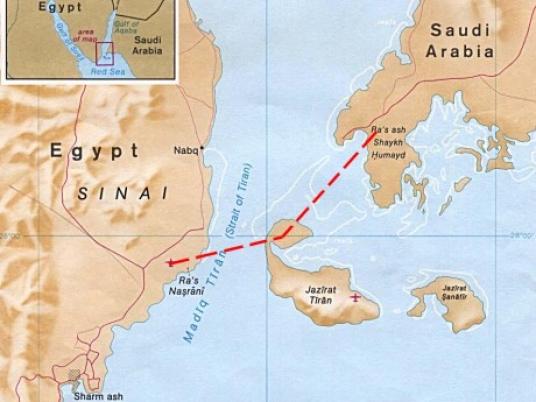 The Egyptian official state magazine unveiled on Thursday that numerous letters were exchanged between the Egyptian foreign minister, Samih Shokary, and Israeli Prime Minister Benjamin Netanyahu, as well as those exchanged between Egypt and Saudi Arabia over the recent approved of the maritime demarcation agreement between the two countries.
The published letters indicate constant communication between Egypt and Saudi Arabia Foreign Affairs current and former ministers, to coordinate talks on the two Red Sea islands of Tiran and Sanfir.
Moreover, the letters showed, in detail, how Saudi Arabia initiated friendly talks with Egypt, dating back to the 90s, on how to carry out the agreement.
Three of the letters exchanged between Shokry and Netanyahu, were written to inform Israel of the agreement between Egypt and Saudi Arabia.
The Official Gazette's Thursday edition included the full text of President Abdel Fattah el-Sisi's decree, ratifying the maritime demarcation agreement, issued on June 24 2017. Ammendments to the decree included three letters signed by Foreign Minister Sameh Shoukry and addressed to Netanyahu.
The letters that were sent on May 8 2016 and December 18 and 19 2016, stressed Saudi Arabia's commitment to the current arrangements regarding the strait and the two islands.
The second letter includes more details on the specifics of the arrangements, referring to the tasks of the multinational force assigned to be present on the islands, according to the 1979 peace treaty between Egypt and Israel.
In the third letter, signed off by Netanyahu and addressed to Shoukry, the Israeli prime minister acknowledges the Egyptian-Saudi agreement and states that Israel does not consider the agreement a violation of the peace treaty.
The agreement, signed April 2016 by Saudi King Salman Abdulaziz and President Sisi, stipulated that the sovereignty of Tiran and Sanafir islands would be transferred to Saudi Arabia.
The agreement was legally invalidated by a verdict from Egypt's higher courts, including the State Council and the Higher Constitutional Court, and these verdicts cannot be appealed according to Egypt's 2014 Constitution.