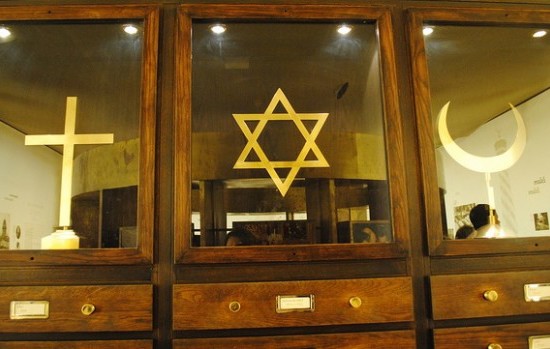 A committee will be tasked with creating Egypt's first museum of religious tolerance, Minister of Antiquities Khaled Anany announced on Thursday.
The museum will aim to demonstrate how Islam's teachings of tolerance, combined with Egypt's inclusive culture, created a diverse environment for religions to flourish. It will include pieces from Pharaonic, Islamic, Coptic and Jewish civilizations. 
Located in the New Administrative Capital, the museum will neighbor the city's main mosque on a 50×15 meter stretch of land, with the possibility of added length. The council is currently collecting a pick of centerpieces, to be ready for display by the time the museum is built, and arranged by a panel of professionals.
The panel includes esteemed archaeologist and ex-Antiquities Minister Zahi Hawas, General Manager of the Tahrir Egyptian Museum Sabah Abdel Razik, and General Manager of the Islamic Museum Mamdouh Othman.
Egypt has shown a recent interest in portraying minority faiths in its history. In 2017, the Egyptian Museum held a display titled "Egypt: the cradle of religions", where it displayed several Islamic and Coptic artifacts. Moreover, Egypt hosts an Islamic Art Museum and a Coptic Museum, while Magda Haroun, head of Egypt's Jewish Community Council, is undergoing efforts to create a national Jewish museum.
Egypt plays a central role in the New and Old Testaments; the land of Egypt is mentioned 750 times while the word "Pharaoh" is mentioned over 200 times, according to theologist Peter Görg.
In the numerous Islamic empires since, minorities have faced a fluctuating history of tolerance. Copts enjoyed unmatched prosperity and official positions of influence under early caliphs such as Abdelaziz Ben Marwan. Yet under his son Amr, Copts faced legal ostracization, prompting many to convert or flee, according to UCLA historian Luke Yarbrough. The decades-long relationship between Islamic Egypt and its minorities is a reflection of the diversity of Islamic thought, and its differing perspectives on religious pluralism.