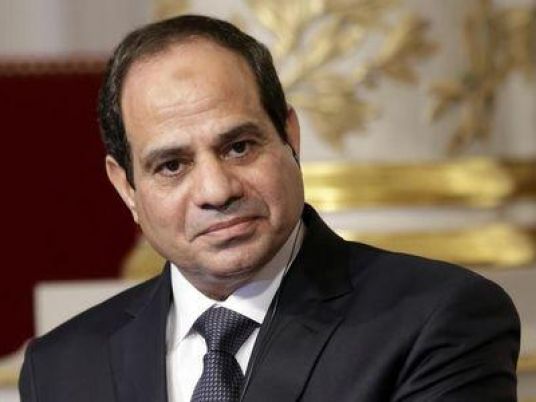 Egypt's President Abdel-Fattah al-Sisi has endorsed an amended law defining voting districts in this country of more than 50 million voters, his spokesman said Thursday, removing the last hurdle for setting the date for the long-delayed parliamentary elections.
Egypt has not had an elected legislature since 2012, when the country's Supreme Court ruled that the parliament's lower chamber was not constitutionally elected.
An earlier version of the law was declared unconstitutional by the same court in March, causing an indefinite delay in parliamentary elections. The court at the time said the law failed to guarantee equal representation for voters, and asked that it be amended.
A judicial official, speaking on condition of anonymity because he was not authorized to speak to reporters, said the reviewed version took into account the Supreme Court's concerns. He said he hoped the amended law would not be challenged again.
But political groups and rights defenders said the new law was steered by security concerns and ignored demands of Egypt's budding political groups seeking smaller districts to enable them to compete, as well as a higher percentage for representation based on party lists.
Al-Sisi's spokesman, Alaa Youssef, said the amended law divides Egypt into 205 districts for individual candidates and four districts for party lists.
According to the law, the next elected lower chamber will have over 560 elected lawmakers, with only 20 percent of them voted in on the basis of a party-list system.
Khaled Dawoud, a spokesman for al-Dustour, one of the new liberal political parties, said the law will produce a legislature reminiscent of the ones under longtime autocrat Hosni Mubarak, ousted in a popular uprising in 2011.
"We can't compete," Dawoud said. "They tailored it (the parliament) to be totally loyal to the president."
Egypt's upcoming parliament elections are the third and final step in a roadmap announced by al-Sisi in 2013, when he ousted Islamist President Mohammed Morsi amid massive protests against Morsi's yearlong rule.
Since then, authorities have cracked down on Islamists, declaring Morsi's Muslim Brotherhood, which won majority in the 2012 parliament elections, a terrorist organization and detaining thousands.
Mozn Hassan, who heads Nazra feminist studies group that campaigns for better representation of women, said officials amending the law mainly focused on breaking up districts that are Islamists strongholds.
"Districting was seen as a national security issue," she said.
The elections will come as Egypt is dealing with a widening insurgency that has trickled from the restive northern Sinai province to other parts of the country amid a crackdown on dissent.
On Thursday, the wife and the lawyer of a prominent secular activist, Khaled ElSayed, said he was detained at the Cairo airport before boarding a plane to Qatar. More than 12 hours later, there was still no word of his whereabouts, his wife, Hoda Mahmoud, said from Qatar.
An airport security official said ElSayed was stopped from boarding the plane because he is wanted for violence-related cases. The official did not elaborate and spoke on condition of anonymity because he was not authorized to speak to reporters.
ElSayed's lawyer, Halem Henish, described his client's arrest as illegal, saying that a one-month sentence for protesting is currently in the appeal phase.
ElSayed was one of a dozen youth activists who met with the military in 2011 to represent the demands of the protesters during the 18-day uprising against Mubarak and has remained in the opposition since then.
Meanwhile, a roadside bombing in Egypt's restive northern Sinai wounded 20 policemen travelling in a bus and an armored personnel carrier, security officials said, a week after one of the most vicious attacks on Egyptian troops in the region which was claimed by an Islamic State group affiliate. In that attack, at least 17 army soldiers were killed, according to Egypt's military, although other branches of security put the toll much higher.