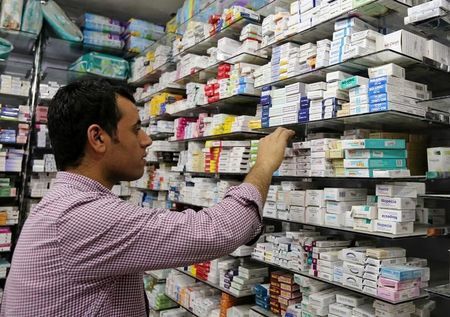 Egypt will raise prices for a number of medicines after months of negotiations with pharmaceutical companies hurt by dollar shortages and a weakening currency, Health Minister Ahmed Emad Eddin said on Thursday.
The rises apply to 15 percent of domestically manufactured medicines and 20 percent of imported medicines, he said, adding that the increases will cover 30-50 percent of the value of the depreciation of the Egyptian pound.
The pound's slump and the foreign currency crunch have made it harder for Egyptian pharmaceutical companies to import active ingredients they need to make generic medicines that millions of poor Egyptians rely on.
Egypt abandoned its peg of 8.8 pounds per dollar on Nov. 3 and the pound has since halved in value. Pharmaceutical companies have been negotiating for months with the Health Ministry to raise medicine prices.
While the weaker currency has made it costlier to import raw materials, prices for finished medicines are fixed by the Health Ministry. This has forced companies to stop making some cheap generic medicines to staunch growing financial losses, and shortage in the domestic market have resulted.