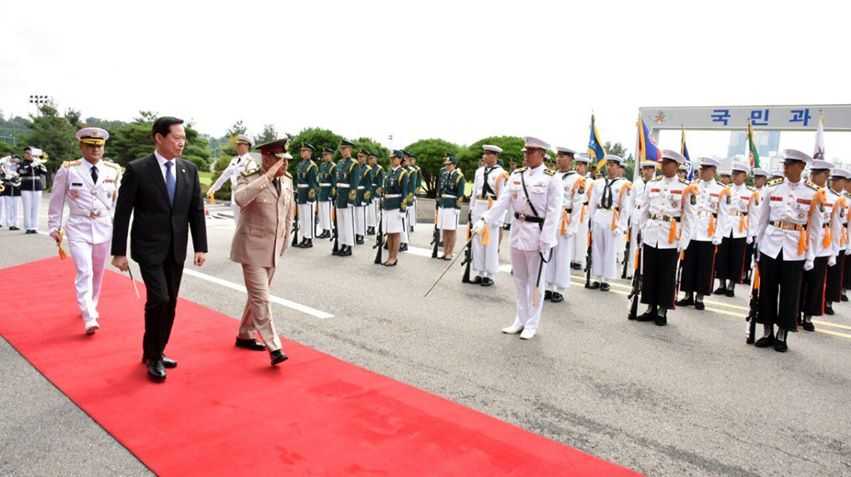 Controversy surfaced on the political scene in Egypt in recent days following media reports indicating the severance of military ties between the country and North Korea.
According to a report released by the South Korean official News Agency Yonhap, quoting the South Korean Defense Ministry, Egyptian Defense Minister Sedki Sobhi stressed that his country has already severed all military ties with North Korea.
He added that Egypt will actively cooperate with South Korea against North Korean acts that threaten peace and stability in the international community.
The authenticity of the statements mentioned in Yonhap have still not been independently verified — nor have they been denied by the Egyptian military. The army official's spokesperson Tamer El Refeai told Egypt Independent on Wednesday that all the details of Sobhi's visit to South Korea are listed on the spokesperson's official Facebook page.
However, the published statement on the Facebook page does not mention anything related to bilateral relations between Egypt and North Korea.
The statement listed meetings conducted by the Egyptian Defense Minister during his visit to South Korea including talks with high-ranking military officials and the South Korean Foreign Affairs Minister.
"All the details of Egypt's Defense Minister to South Korea are explained in the released statement and video footage, so why some media outlets are still publishing reports produced by foreign news agencies?" El Refeai said.
Bilateral relations between Egypt and North Korea are considered as better than with other Arab countries.
The Egyptian official State Information Service described bilateral relations with North Korea as important in that they originated in both of the countries' calls for independence at a similar time.
The peak of the bilateral relations between both countries came during the 1973 war that Egypt engaged in against Israel — at the time North Korea sent number of its fighter pilots to fight with Egyptians against Israelis.
North Korea has long adopted a hostile stance against Israel and still refuses to call it a state, as well as supporting Palestinian rights.
Military co-operation between both countries in the wake of the 1973 war includes Egypt providing North Korea with Soviet made Scud missiles between 1975 and 1976.
Bilateral relations between both countries continued during the era of the ousted former president Mohamed Hosni Mubarak when he paid a visit to North Korea in 1983 and met with late North Korean leader Kim Il-sung where they signed co-operation deals in different fields.