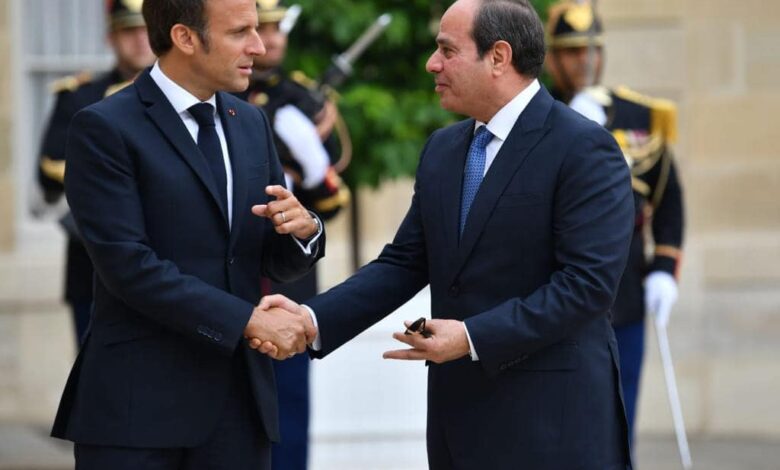 Egypt announced its readiness to deepen its strategic partnership with France, enhance bilateral cooperation in the political and economic fields, and work to settle Middle East crises through political solutions in a manner that preserves the territorial integrity of its countries and their national institutions.
During his meeting with his French counterpart Emmanuel Macron on Friday Egyptian President Abdel Fattah al-Sisi affirmed Egypt's keenness to strengthen and deepen the extended strategic partnership with France, which represents an important pillar for maintaining security and stability in the Middle East, the Eastern Mediterranean region and the African continent.
The two leaders, who met at the Elysee Palace in the French capital, Paris, discussed several regional issues, particularly in regards to Palestine and ways to revive the peace process.
The French president expressed his country's appreciation for the relevant Egyptian efforts, and looked forward to continue consultations in the matter.
Macron also expressed France's appreciation for Egypt, its pride in the historical ties that unite the two friendly countries, and his country's commitment to support the process of joint bilateral relations in various fields in a constructive and positive manner.
President Sisi affirmed Egypt's firm position to reach a just and comprehensive solution that guarantees the rights of the Palestinian people and the establishment of their independent state in accordance with international references.
The discussions also included a review of the developments in the eastern Mediterranean region, Libya, Syria and Lebanon.
Sisi briefed his French counterpart on Egypt's ongoing preparations to host the Global Climate Summit COP27 in Sharm el-Sheikh in November, and efforts to coordinate international efforts to achieve tangible progress on the issue of climate change and produce positive results from the summit.
President Sisi also met in Paris with French Minister of Economy and Finance, Bruno Le Maire, who affirmed his country's keenness to maximize cooperation with Egypt in various fields, which would be in the interest of the ongoing development process in Egypt.