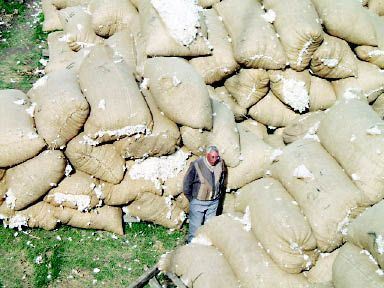 Standing waist deep in a cotton field, Egyptian farmer Mohamed Khalil cannot mask his anger; after the agriculture ministry banned cotton imports to help local producers, the cabinet abruptly vetoed the idea – the latest in a series of economic policy U-turns and delays under President Abdel Fattah al-Sisi.
"I can't believe this. Just weeks ago they said we wouldn't have to worry about imported cotton," said the white-turbaned farmer, who rents a plot from the state to grow high-quality cotton at the Nile Delta village of Shubra Kheit.
Such schizophrenic decision-making is also a symptom of wider policy problems affecting Egypt, which is struggling to re-energise its economy and attract foreign investment after years of turmoil since 2011.
Sisi has imposed some tough reforms such as reducing fuel subsidies which swallowed up huge parts of the state budget, winning praise from the IMF. But he has focused much of his economic policy on mega-projects like extending the Suez Canal and a planned new capital city.
Meanwhile, other state initiatives have run into trouble. The government backtracked on plans to implement a capital gains tax in May, a central component of its reform agenda, after stock market players complained it would hamper investment.
It has also delayed the roll out of a fuel smart card system meant to cut the government's energy bill, as well as the introduction of a value-added tax (VAT).
Cotton illustrates the problem well. In July, the agriculture ministry banned imports in order, it said, to boost local production. Egypt grows a high-quality and extra long staple cotton, once known as "white gold", but output has been shrinking for years.
"The ministry is keen on Egyptian cotton regaining its glory on all levels," it said in announcing the ban. Eight days later, the cabinet reversed the decision, giving no reason beyond saying that this was in the context of "developing cotton farming and supporting its farmers".
The about-face has cast doubt on the government's commitment to reviving a sector that once produced Egypt's most prized export and still accounts for much of the superior cotton used to weave luxury fabrics throughout the world.
"(The cotton policy) adds to a general sense that Egyptian policymaking doesn't seem to be subject to too much analysis before implementation," said William Jackson at Capital Economics, adding that "erratic policymaking" made it difficult for investors to plan ahead.
A commodities trader also questioned the agriculture ministry's move. "The ministry can't unilaterally impose something like that without having the data showing that it is going to help more than it hurts," the trader said.
The agriculture ministry did not respond to requests for comment. However, alarmed textile manufacturers had campaigned against the ban, which would have deprived them of cheap imported cotton supplies.
Egypt's high council for cotton, made up of government ministries and industry bodies, said on Monday it would work to harmonise cotton policy taking into account foreign and domestic demand, according to a statement from the prime minister's office.
EXASPERATION
In Shubra Kheit, about 150 km (90 miles) north of Cairo, extra-long "Giza 88" cotton is the only variety planted. There, farmers like Khalil feel betrayed by promises that their crops would replace the imports.
They had already suffered a blow in January when the government said it would no longer pay a subsidy of 350 Egyptian pounds ($45) per qintar – a unit that equates to 160 kg – of high quality cotton.
Liberalisation of Egypt's cotton sector in 1994 exposed farmers to volatile global prices and rising fertiliser costs. Cotton acreage has fallen dramatically since the heyday of the 1960s, when Egypt grew cotton on up to 2.2 million feddans (924,000 hectares), helped by fixed state prices.
A quarter century ago, Egypt produced 2.4 million bales of cotton but the U.S. Department of Agriculture (USDA) expects this season's output to be just 340,000 bales.
Competition from the high-quality U.S. Pima variety has hurt the industry. Farmers have also turned to more lucrative crops and local textile firms have shifted their focus to creating low-quality products with cheap raw cotton imports.
"Now what do I do with this?" Khalil asked, waving a work-worn hand at the extra crop he planted after hearing there would be an import ban.
About half a million workers are involved in cotton production and manufacturing, said Gamal Siam, an agricultural economist at Cairo University. This makes the industry still one of the largest employers in Egypt, a country of nearly 90 million where poverty levels hover at around 40 percent.
STRAINS MIXING
Nevertheless, Siam, a farm owner himself, questioned the wisdom of a ban. "The original idea was very bad," he told Reuters. It had sent local textile manufacturers into a panic because Egyptian millers consume nearly twice as much cotton as local farmers produce, he said.
The biggest threat to local cotton was low productivity on Egyptian farms, which the import ban would not have addressed, said Siam. A lack of government investment in research to improve the cotton crop had also hurt productivity, he added.
Decades of sloppy crop handling has led to strains mixing, watering down the pedigree of Egyptian cotton.
But local officials point to recent improvements.
In Shubra Kheit, officials say no cotton is allowed to be grown in the village or surrounding areas except for Giza 88, to avoid mixing.
But between lower prices and the removal of subsidies, observers see a tough road ahead. "It seems like the government is ready to give up on Egyptian cotton," Siam said.