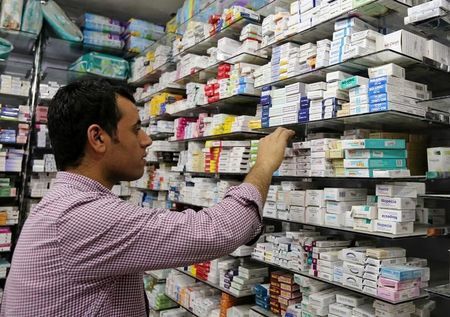 Egypt's military has received the licence required to form a pharmaceutical company, according to a decree by Prime Minister Sherif Ismail published on Sunday.
President Abdel Fattah al-Sisi has often called in the military to assist in major infrastructure projects and with distribution of subsidised commodities to keep a lid on rising prices amid an acute shortage of US dollars.
Egypt has faced a drug shortage for months and the government raised prices on a number of medicines in January after months of negotiations with pharmaceutical companies hurt by US dollar shortages and a weakening local currency.
The Egyptian pound's slump and the foreign currency crunch have made it harder for Egyptian pharmaceutical companies to import active ingredients they need to make generic medicines that millions of poor Egyptians rely on.
Egypt abandoned its peg of 8.8 pounds per US dollar on November 3 and the pound has since halved in value. Pharmaceutical companies have been negotiating for months with the Health Ministry to raise medicine prices.
"The National Agency for Military Production is permitted to partake in the founding of a company called the Egyptian National Company for Pharmaceuticals," read the prime minister's decree, dated January 17 but published on Sunday.
The economic weight of the military, which produces everything from bottled water to macaroni, has long been a topic of debate in Egypt.
Sisi said in December the military's economic activity accounted for no more than two percent of the country's output, dismissing suggestions the military could control as much as half of the economy.