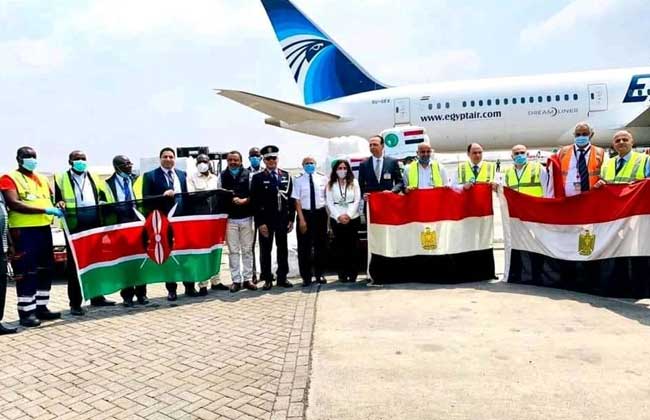 Egypt delivered a shipment of medical aid to the Kenyan government on Sunday to help the African nation counter its coronavirus outbreak.
The delivery was attended by the Chargé d'Affairs of the Egyptian Embassy in Nairobi Nelly al-Orabi, the Kenyan Ministry of Health Undersecretary Rashid Aman and the Kenyan Foreign Ministry Undersecretary Ababu Namwamba.
The shipment contains over 7,000 various medical supplies for personal protection, valued at about US$150,000, including sterilized gloves, medical gowns, facemasks, plastic medical glasses and medical shoes.
In a statement on Sunday, Orabi said that this aid comes within the context of Egypt's distinctive relations with African countries in general, and specifically its partnership with Kenya.
This Egyptian initiative seeks to consolidate the spirit of African solidarity in facing various challenges, she said, foremost of which is the coronavirus pandemic and enhancing ways to counter it.
Orabi also affirmed the strength of Egyptian-Kenyan relations which has seen increasing momentum in various fields of cooperation such as trade, security, health, education and culture.
Kenyan Minister Aman expressed his deep appreciation towards Egypt's aid, which will help the Kenyan Health Ministry combat the pandemic, particularly by providing the necessary protection for Kenyan medical teams during their work.
Ababu Namwamba meanwhile said that this aid is a reaffirmation of the deep bonds the two countries share.
He also thanked Egypt's role in facilitating the departure of Kenyans stranded in Egypt following the suspension of international air traffic caused by the virus earlier this year.
The Chief of Staff for the Bureau of the Chairperson of the African Union (AU) Commission Abdoulaye Diop on Saturday praised Egypt's support for African efforts to combat the COVID-19 pandemic and the assistance it has provided.
The Egyptian Deputy Foreign Minister for African Affairs, Hamdi Loza welcomed Diop during his Saturday visit to Cairo.
Diop conveyed the thanks the Chairperson of the African Union Commission, Moussa Faki Mahamat to the Egyptian government for its work in this regard.