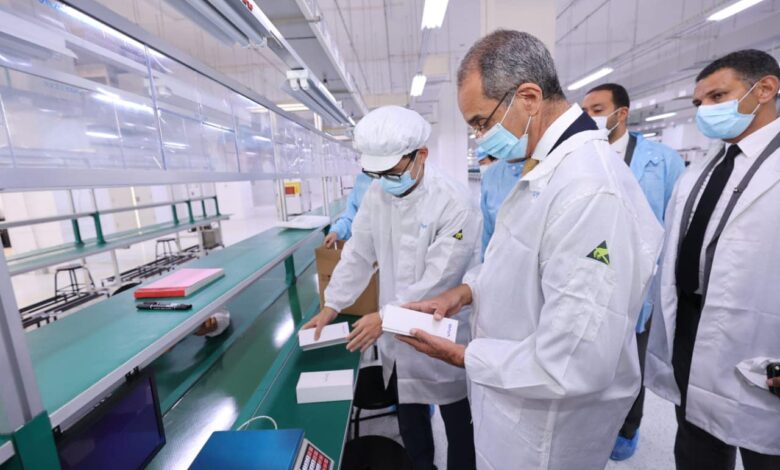 Egyptian Minister of Communications Amr Talaat conducted an inspection tour on Friday for the the new Vivo Telecom Technology Company factory, specialized in manufacturing smart phones in the 10th of Ramadan City in Sharqiya Governorate.
The minister explained that factory is built on an area of 11,000 square meters, with investments of about US$20 million, increasing to $30 million within a year.
It will contribute to providing 1,500 job opportunities within a year, and uses the latest international technologies in production lines, surface installation devices, assembly, calibration and testing.
The government is keen to develop this important industry in implementation of the presidential initiative "Egypt Makes Electronics", which aims to localize the electronics industry and make it one of the biggest pillars for the growth of the economy.
And he noted the state's efforts to attract more foreign investments and establish global partnerships to provide excellent job opportunities for young people and achieve the government's vision of deepening local manufacturing – enhancing Egypt's position in the field of electronics design and manufacture.
Encouraging local production
Talaat said that the new Vivo factory will contribute to the transfer of advanced technology specialized in the manufacture of smart phones to the Egyptian market.
He added that young Egyptian specialists are scheduled to begin the stages of manufacturing smart phones using international technology.
Many international companies working in the electronics industry are interested in expanding their investments in Egypt, he pointed out.
During his visit to the factory, Talaat was briefed on the investment plan, future expansions of the factory, export plans, the start of trial operation, check on its readiness, and making sure that production started with the highest international technical specifications, as company officials indicated that the percentage of the local component in production reaches 45 percent.
Vivo is a global company specializing in the manufacture of smartphones and their accessories, the production of their own software, and the provision of Internet services.bIts headquarters is located in Dongguan, southern China, and is one of the important companies in the smartphone industry worldwide.