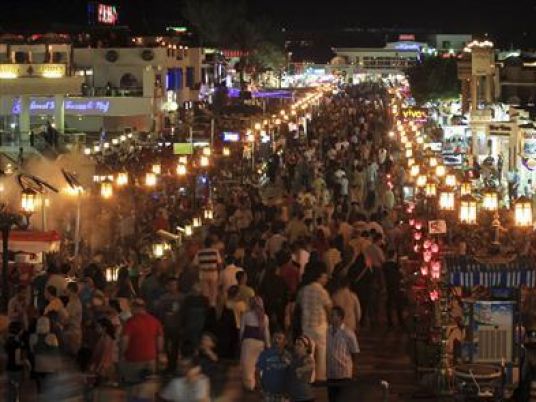 Egypt will be offering international investors the opportunity to develop sustainable cities along the Red Sea and its Mediterranean coasts, Tourism Minister Rania Al-Mashat told Bloomberg in an interview this week.
"We are trying to develop Egypt as a destination that has dynamism and diversity building on the very strong momentum we saw in 2017," adding that cities like New Alamein City are expected to help drive tourist traffic by adding to the number of places to visit in Egypt.
She added that Egypt will begin targeting new regions for tourism such as Gabal Al-Galala in Ain Sokhna, as well as Al-Alamein in the North Coast.
Al-Mashat said that she expects more than 8 million tourists to visit the country in 2018.
"We have areas that are untapped along the Mediterranean and Red Sea coasts. We want to open these up for international bids," Al-Mashat previously said when the Tourism Development Authority (TDA) selected "untapped locations" around the country to establish "a very high-end type of project to bring in high-end tourists."
She noted that the tenders will be revealed once the list and plan are finalized.
Al-Mashat added that as part of a larger plan to reform the tourism sector, the ministry will also work on structural and legislative amendments.
"We want to try to unleash many of the structural impediments in order to push the sector forward. We have a number of laws that govern the tourism sector, and they have not been touched since the 10970s, so regulatory reforms  that could attract investments to hotels and tourist facilities are needed," Al-Mashat stated during the interview.
She explained that the tourism sector contributed 15 percent to the country's economic growth in the last quarter, which registered an overall growth rate of 5 percent.
"Therefore, a central component of the reform agenda is also a plan to launch a nationwide, mega-scale training program for staff and employees as the tourism sector has always offering job opportunities for Egyptians," she told Bloomberg.
In January 2018, Russian President Vladimir Putin signed a presidential decree to resume flights between Cairo and Moscow. Both countries have signed a joint civil aviation cooperation protocol.
Russian tourists formerly had the lion's share of tourism in Red Sea pearls Sharm El-Sheikh and Hurghada until the decision to suspend flights.
According to Russian state media outlet Russia Today, at least 3.16 million tourists are expected to visit Egypt following Russia's decision to lift a ban on direct flights to Cairo.
Minister of Tourism Rania Al-Mashat took office in January 2018. She is a leading expert in monetary policy and international economics, who has worked with leading international financial institutions.