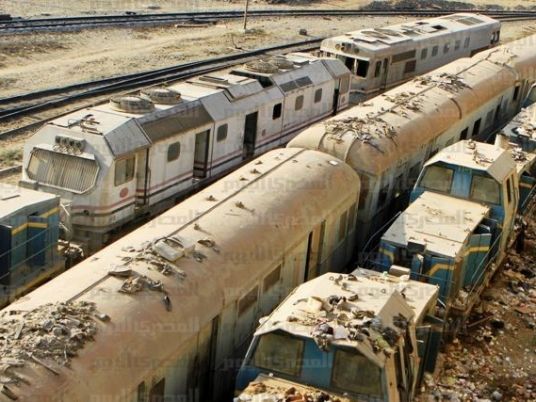 Egypt's Transport Minister Hesham Arafat said in a press statement that there is a comprehensive plan to develop the railway system in Egypt by 2022, including its infrastructure, vehicles, tractors, crossings and stations, with a total cost of LE55 billion.
Arafat said that Egypt has signed deals to import 100 trains from the American multinational conglomerate, General Electric, as well as to restore 81 trains, and to request funding for a further 100 trains.
He also added that the government with sign for 1,300 passenger vehicles, along with 300 vehicles for goods, saying that the Egyptian citizen will feel a significant improvement in the railways during the next year.
Earlier in March, during a rail industry conference and exhibition in Dubai, Arafat said that Egypt will implement projects costing LE120 billion, including the LE90 billion third line of the Cairo metro. The new metro line will help transfer approximately 4 million passengers each day through 27 tunnel stations and 12 surface stations over a length of 48 kilometers.
The Transport Ministry has already has been working on developing the railway network recently. It implemented projects and established new railway lines, including the high-speed train to run between Ain Sokhna and al-Alamein, as well as the train from between 6th October City and Aswan, in addition to monorails in 6th October City and the New Administrative Capital.
Meanwhile, Egypt's House of Representatives recently passed a law that enables the private sector to operate, maintain, and develop the railway networks in cooperation with Egypt's National Railway Authority.
In 2017, president Abdel Fattah al-Sisi and his Chinese counterpart Xi Jinping signed two agreements including the Memorandum of Understanding (MoU) to construct a $739 million electric train linking the 10th of Ramadan City and New Cairo with the New Administrative Capital.