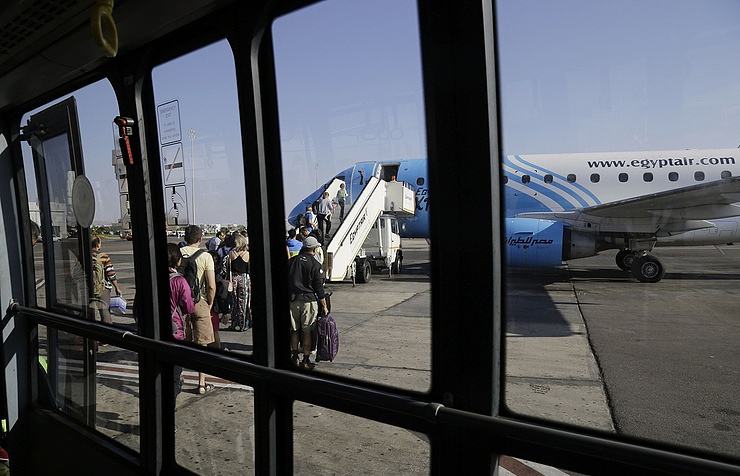 Egyptian aviation officials will hold a meeting with Russian counterparts in May to discuss the return of Russian flights to Sharm El-Sheikh and Hurghada after a two-and-a-half-year flight suspension, revealed Minister of Civil Aviation Sharif Fathi.
On the sidelines of the Aviation Africa 2018 Conference in Cairo, Fathi said "we respect the decisions of Russia, which will determine the appropriate timing for the return of their flights to Sharm El-Sheikh and Hurghada in coordination with Egypt."
He said that the upcoming meeting would see an assessment of the resumption of travel between the two countries, which began on April 11 with the return of Russian flights to Cairo for the first time in more than two years.
On April 11, Russia's largest airliner Aeroflot resumed flights to Cairo after a flight suspension which has been in place since November 2015, implemented in the wake of the downing of a Russian plane over the Sinai Peninsula, in a suspected terrorist attack which killed 224 people.
The company announced last Wednesday that it will operate three flights a week from Moscow to Cairo – on Saturday, Monday, and Wednesday – and flights from Cairo to Moscow on Sunday, Tuesday, and Thursday.
In January 2018, Russian President Vladimir Putin signed a presidential decree to resume flights between Cairo and Moscow. Both countries have signed a joint civil aviation cooperation protocol.
Russian tourists formerly had the lion's share of tourism in Red Sea pearls Sharm El-Sheikh and Hurghada until the decision to suspend flights.
According to Russian state media outlet 'Russia Today', at least 3.16 million tourists are expected to visit Egypt following Russia's decision to lift a ban on direct flights to Cairo.