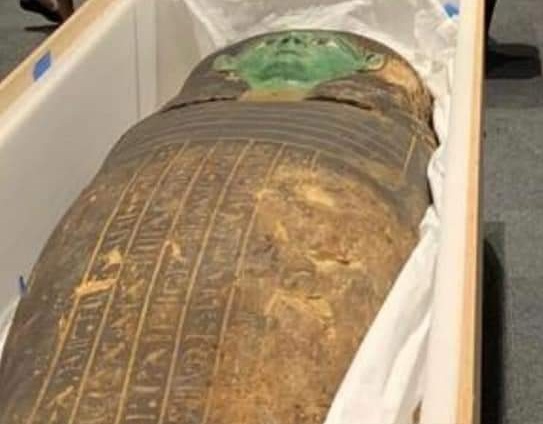 The National Media Authority in Egypt announced on Saturday that Cairo will receive on Monday, January 2 a green sarcophagus recovered from the United States.
It added that this will take place during a joint press conference at the headquarters of the Foreign Ministry in Cairo, to be held by Foreign Minister Sameh Shoukry, with Minister of Tourism and Antiquities Ahmed Eissa, in the presence of the Chargé d'Affaires of the US Embassy in Cairo.
Egyptian diplomatic efforts succeeded in recovering the artifact, which is the cover of a wooden coffin from ancient Egyptian times illegally smuggled out of the country.
The coffin lid is of exceptional size, more than three meters long, and is made of wood covered with hieroglyphic inscriptions.
القنصلية المصرية في هيوستن تنجح في استرداد تابوت من العصور الفرعونية القديمة

وقع السفير حسام القاويش، القنصل العام لجمهورية مصر العربية في هيوستن بالولايات المتحدة الأمريكية، مع رئيس وحدة مكافحة تهريب الآثار بمكتب المدعي العام pic.twitter.com/3HtjB4hUPF

— Hassan ELmasry (@HassanE14389030) September 29, 2022
The Consul General of Egypt in Houston in the United States, Ambassador Hosam Alkaweesh, had received the coffin cover of the priest of the city of Herakiopolis, called "Ankh-en-Maat", which was in the possession of the Houston Museum in the United States.