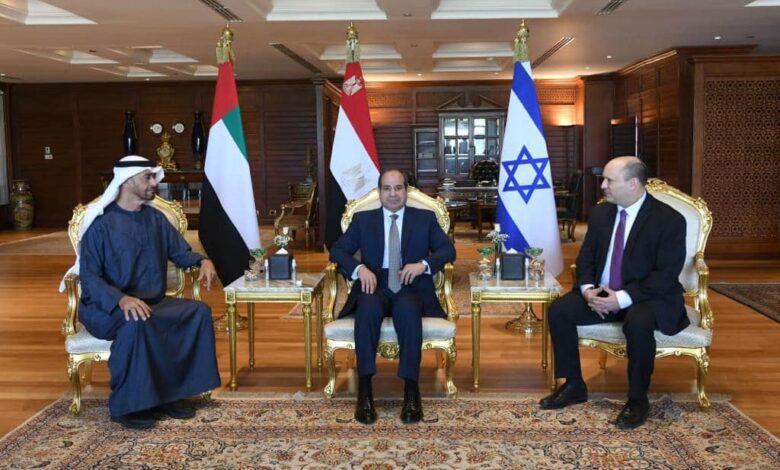 Egyptian President Abdel Fattah al-Sisi met on Tuesday in the Red Sea resort city of Sharm el-Sheikh with His Highness Sheikh Mohamed bin Zayed Al Nahyan: Crown Prince of Abu Dhabi, and Israeli Prime Minister Naftali Bennett.
The spokesman for the Egyptian presidency Bassam Rady said that the meeting discussed the repercussions of global developments.
There is a Special focus on regard to energy, market stability and food security.
Sisi had held bilateral talks with bin Zayed earlier on Tuesday.
The Egyptian presidential spokesman said that the meeting included discussions on frameworks and prospects for joint cooperation between Egypt and the UAE.
The two leaders stressed the importance of supporting and strengthening cooperation between the two countries.
This is for the benefit of the two brotherly countries and their citizens.
The most important discussions were especially in economics and investment.
They are planning to make optimal use of all available opportunities to enhance integration between them.
The discussions also dealt with a number of the most prominent files on the regional and international arenas.
An agreement was reached on maximizing Egyptian-Emirati cooperation and coordination to develop the joint Arab action system.
President Sisi stressed Egypt's commitment to its steadfast stance towards the security of the Gulf and to protect it from any attempts at destabilizing it at any point.