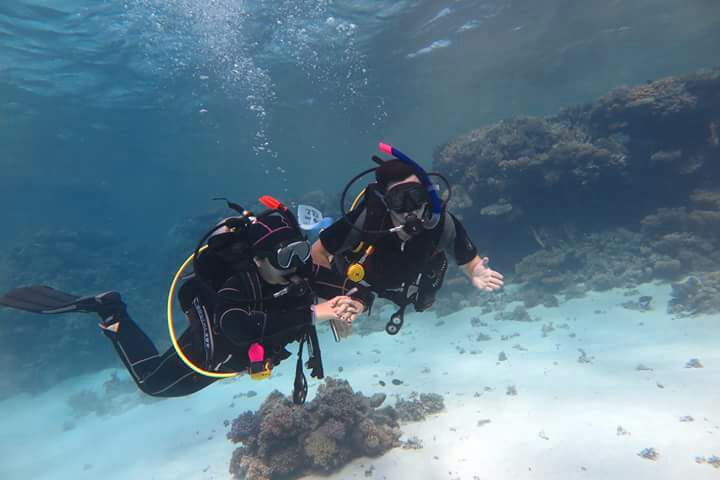 Bahrain's Industry, Commerce and Tourism Minister Zayed Al-Zayani suggested linking the country's highly anticipated  "World Diving Park" with Egypt's Sharm El-Sheikh, the most important diving spot in the region along with Maldives Island, in order to promote the underwater diving theme park, according to an official statement by the Egyptian Tourism Ministry.
This proposal came during a meeting held between al-Zayani and Egypt's Tourism Minister Rania Al-Mashat in which they discussed means to strengthen bilateral ties between the two countries on the sidelines of the 110th session of the World Tourism Organization's Executive Council that took place in Azerbaijan.
Al-Mashat welcomed the plan and suggested including Hurghada and Mara Salam as well. The Egyptian Minister applauded the prospect of collaboration, stressing its key role in attracting the world's people to the most vital diving spots in Egypt.
Al-Mahsat pointed out that the Arab market occupies 30 percent of the volume of foreign tourists and referred to ongoing Egyptian efforts to attract more.
Expected to kick off this August, the Bahraini massive diving park will fascinate scuba divers across the world. The launch was anticipated more than ever after the park's administration announced that it will sink a Boeing 747 plane and other mind-blowing machineries.
The plane will be submerged in the sea. However officials avowed that the park is eco-friendly in reply to concerns about the problems that might be aroused by this step.
"All aircraft surfaces will be subjected to a high-pressure wash with bio-friendly detergents to ensure all post-production coatings, oil and grime are removed," the park's Exhibition Agency previously told CNN. "Furthermore, a vast amount of time has been spent removing contaminants from the aircraft."
Set on 100,000 square meters, visitors will delve into an illustrious underwater world where they will see a mockup of  "a traditional Bahraini pearl merchant's house", Lonely Planet reported.
Twelve million tourists visited Bahrain in 2018, and the country is actively seeking to attract new visitors. Among the plans are opening new direct routes, expanding the international airport and improving infrastructure and facilities.
Bahrain wants to attract more tourists.
Photo by Tanakorn Pussawong/Shutterstock