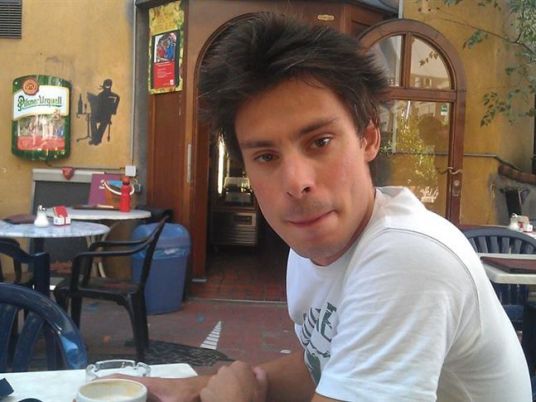 Egyptian general prosecutor, Nabil Sadek, followed up on the updates of the murder investigation of Italian student Giulio Regeni, that took place in Egypt. He discussed the case with his Italian counterpart in a phone call on Monday.
According to a statement released from the Egyptian General Prosecution Authority, the phone call between Sadel and his Italian counterpart touched on the updates of the investigations conducted by the Egyptian prosecution on the murder.
During the phone call, both general prosecutors discussed the information gathered by number of police officers assigned to monitor Regeni before his death. The monitoring operation of the student started after the head of the street vendors' syndicate, who was working with Regeni on a research project, notified authorities that Regeni was a spy.
The phone call touched on efforts exerted by investigators to restore the data of the CCTV, fixed at the Metro stations Regeni was using the day he disappeared. The CCTV data collection task was assigned to a foreign company with the participation of the Italian prosecution.
In 2016, the Egyptian and Italian prosecutions released a joint statement, following a meeting in Italy; the statement said that the Egyptian General Prosecutor clarified to his Italian counterpart that the Egyptian head of street vendors 'syndicate notified police authorities about Regeni.
The notification was followed by monitoring operations on Regeni from police authorities that lasted for three days. The operations revealed that Regeni's activities did not present a threat to Egypt's national security, so they were suspended.
The 28-year-old Italian Cambridge student researcher was residing in Cairo to do field research for his PhD thesis on independent unions in Egypt. He disappeared last January 25 in central Cairo while police poured out in anticipation of protests.
His body, bearing signs of torture, was later found by the side of a road.
Police officials at first suggested Regeni might have died in a road accident. They have thus far released scant information about their investigation.
An Italian autopsy showed that Regeni's body was covered with cuts and his bones were broken, indicating he had been hit with "fists, batons and hammers".
Egypt has emphatically denied that its police were involved in his abduction.