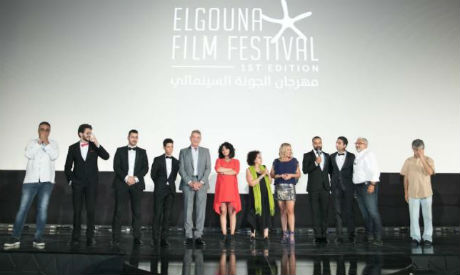 The first edition of Egypt's ambitious El Gouna Film Festival wrapped up on Friday with short movie, Photocopy," by Egyptian first-timer Tamer Ashry, starring Mahmoud Hemeida, Sherine Reda, taking the nod for best Arabic feature.
Egyptian actress Amina Khalil hosted the closing ceremony. The festival offers a star, a symbol of Gouna, as the award to the winners.
Psychological thriller "Scary Mother," by Georgian first-time director Ana Urushadze, took the Golden Star, the festival's top feature film competition prize. The honored prize was awarded by a jury headed by US producer Sarah Johnson.
Along with a trophy, "Scary Mother," a story about a 50-year-old housewife struggling to choose between her family life and a passion for writing, scored $50,000 in prize money, divided equally between the director and the main producer.
US titles performed well in the documentary competition. Raoul Peck's "I Am Not Your Negro," about African-American writer James Baldwin, scored the top place, worth $30,000.
World premiere of "Soufra," a doc executive-produced by Susan Sarandon about a group of women in the Bur El Barajneh refugee camp south of Beirut who set up a catering business, took the section's Mentor Arabia Award. Directed by Thomas Morgan, "Soufra" (Arabic for "feast") also won the fest's audience-chosen Cinema for Humanity award.
El Gouna's Bronze Star went to Russian drama "Arrhythmia," about a hard-drinking paramedic's domestic woes.
French-Lebanese director Ziad Doueiri's "The Insult" took the El Gouna Silver Star nod. Doueiri was also honored during El Gouna with the Variety MENA Talent of the Year Award.
The complete list of awards is as follows:
El-Gouna Star for Best Arab Feature Narrative
Photocopy by Tamer Ashry
Bronze Star for Best Feature Narrative Film
Arrhythmia by Boris Khlebnikov
Silver Star for Best Feature Narrative Film
The Insult by Ziad Doueiri
Golden Star for Best Feature Narrative Film
Scary Mother by Ana Urushadze
El-Gouna Star for Best Actress
Nadia Kounda for her role in film Volubilis
El-Gouna Star for Best Actor
Daniel Gimenez Cacho for his role in film Zama
Golden Star for Best Feature Documentary
I Am Not Your Negro by Raoul Peck
El-Gouna Star for Best Arab Feature Documentary
I Have a Picture by Mohamed Zaydan
Silver Star for Best Feature Documentary
Brimstone and Glory by Viktor Jakovleski
Bronze Star for Best Feature Documentary
Mrs Fang by Wang BingEl-Gouna
El-Gouna Star Award for Arab Short Film
Punchline by Christophe M. Saber
Bronze Star for Best Short Film
Mama Bobo by Robin Luc Andelfinger and Ibrahima Saydi
Silver Star for Best Short Film
Merry Go Round by Ruslan Bratov
Golden Star for Best Short Film
Nightshade by Shady El Humus
Mentor Arabia Award for Best Arab Feature Documentary
Sofra by Thomas Morgan
Film Factory Award for Best Short Film
Baghdad's Photographer by Maged Hamid
Audience Award
Sofra by Thomas Morgan