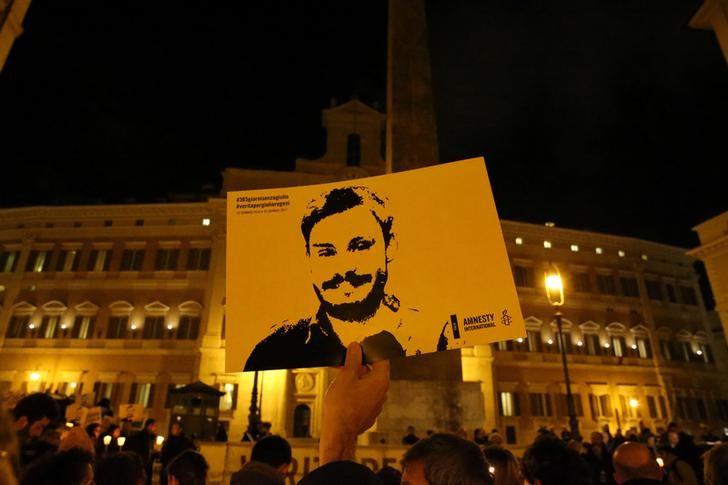 Egyptian Public Prosecutor Hamada al-Sawy met with Italian Ambassador Giampaolo Cantini at the headquarters of the Public Prosecutor's Office in Cairo to hand over to Cantini two official copies of the Public Prosecution's reports on the murder of Italian student Giulio Regeni, in Arabic and Italian.
The meeting was held in the presence of the First Secretary of the Italian Embassy in Egypt Giulia Mantini and the Assistant Foreign Minister for European Affairs and Head of Appeal and Director of the International Cooperation Department at the Public Prosecutor's Office Ambassador Badr Abdel-Ati.
The Egyptian Public Prosecution concluded its handling of the case by a temporarily report stating that there is no reason to file a criminal case due to the lack of information on a perpetrator, and assigned research authorities to intensify its investigations.
During the meeting, the Public Prosecutor stressed the necessity of submitting all the papers handed over to the Italian ambassador before the court hearing the case in Italy. It included a detailed refutation of everything that was raised about the Egyptian officers suspected of the incident.
The Egyptian Public Prosecution and the Italian General Prosecution of Rome issued a joint statement in December regarding the latest developments in the 2016 killing of the Italian PhD student, Giulio Regeni, in Cairo.
The statement shows a stark contrast between the two countries regarding the fate of the investigation: Egypt's Public Prosecution stated that it is going to temporarily shelve the investigation, while the Italian side intends to try five Egyptian suspects with links to Egyptian security agencies in court.
Egypt's prosecution stated its rejection of its Italian counterpart's decision to proceed with investigations, and again alluded to gang members as the responsible party for Regeni's murder, stating that the office had evidence that he was at least robbed by them.
Regeni, a 28-year-old PhD student from Cambridge, had been conducting field research in Cairo regarding the independent trade unions in Egypt when he disappeared on January 24, 2016 in central Cairo, amid a high presence of police in the area who were anticipating protests.
Regeni's body was found mutilated, bearing signs of torture, on a desert roadside on February 6, 2016.
Initially, Egyptian police officials suggested Regeni died in a road accident. However, an Italian autopsy showed that Regeni's body was covered with cuts, and his bones were broken, indicating that he had been beaten with "fists, batons and hammers."
Egypt has emphatically denied that its police were involved in Regeni's abduction, torture, or death.
The Regeni case has strained ties between Egypt and Italy, which previously recalled its ambassador in Cairo over the case. Relations were restored in August 2017, when Rome said it would return its ambassador and continue the search for Regeni's killers.
Edited translation from Al-Masry Al-Youm