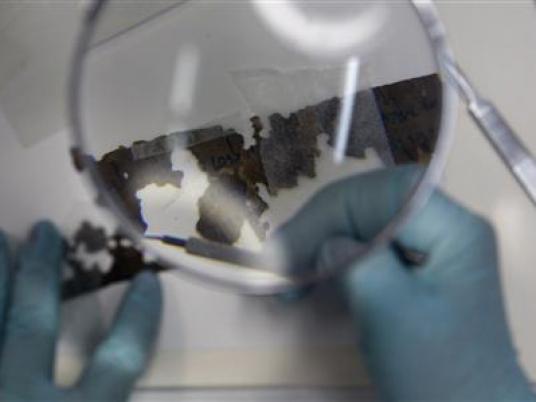 Harrowing stories floating on the surface of the Mediterranean drifted by its reckless waves or buried so deep down its darkening bottom from North Africa to Europe.
These are certainly the bitter stories of illegal immigrants who put their lives in jeopardy to flee harsh life-threatening conditions in their home countries. Some of the risk-takers never saw the light of the day ever since they left to the hazardous route while others, who were fortunate to make it through the rough sea, might have ended up in ghastly despair when they realized that their search of sanctuary turned out to be a loss of safety, dignity, and identity on the European lands.
Zakriya (not his real name) is a Palestinian immigrant who miraculously traversed a perilous voyage with profit-seeking smugglers until he reached Europe. He took to the Mediterranean route on a horrific boat journey that started from the Egyptian shores with 70 migrants on board from Syria, Palestine, Eritrea and Sudan.
The irregular immigrant spoke out against 'heartless' people traffickers and disclosed critical details of his high-risk trip in the Mediterranean Sea. He also revealed some information about his current life and status in London, what he once thought would be a dreamland.
From his very early days, Zakriya was greatly encouraged by his parents to leave war-weary Palestine where death and poverty haunt innocent civilians on a day-to-day basis. They saved up for many years to be able to pay their son's illegal transportation fees, mistakenly thinking they are sending him to a safe trouble-free zone.
When he was financially ready, Zakariya made his way to Egypt to begin his long-awaited journey. Egypt is well-known among Arab and North African immigrants as one of the very popular gateways to Europe through the Mediterranean route. Zakariya met the smugglers in the coastal city of Alexandria and paid them $4000 to plan his trip.
'They took all my money and disappeared for a good while. They said that the smuggler-migrant relationship should be built on trust. They told me that I will know the details of my trip at the right time. I had no option but to wait and I waited a lot,' Zakriya said.
On a normal Monday morning, the smugglers met all the migrants, aged between 10 and 40 years old, and took them in a van without telling them where they are heading. They locked them all up in a small nasty room for three days near the coast of Rashid, in Beheira, as they learned later.
'They treated us like cattle. They gave us one meal a day. We slept, sat and dined on the floor of a disgusting room. We didn't even have access to toilets,' Zakriya added.
On the dawn of the fourth day and without any prior notice, the smugglers woke the migrants up and pressed them to a vulnerable boat to kick-start their precarious adventure. A few days into the trip on its gloomy surface, the boat halted to wait for another group of migrants who, the traffickers said, are coming from Libya.
'We waited in the middle of nowhere for three more days. They refused to give us any of the food or the drinks they had and kept them all for themselves. We ate the raw fish and drank the salt water. We complained and made a big fuss but the mafia threatened to kill us with their handguns,' Zakariya recalled.
The Libyan boat later arrived with 60 more migrants to join the calamity of their fellows in the heart of the sea. The smugglers then ordered the passengers of the two boats to transfer to a flimsy rubber dinghy under the threat of weapons and handguns. Unsurprisingly and tragically enough, the two motors of the inflatable boat broke and fell in the water as soon as the migrants went in and the overcrowded boat sank in the darkening sea. Most of the migrants died or gone missing.
'I still get nightmares of the 10-year-old kid who drowned in front of my eyes and I couldn't do anything to save his life. I hear his agonized scream every night in my dreams. Those people are heartless devils,' Zakriya recalled.
The Italian coastguards managed to rescue Zakariya and four other migrants who were drifting at the sea for the longest time and took them all to receive a medical care in a hospital in Italy. Zakriya managed to escape with the help of Palestinian friends in Italy who hosted him in their home and assisted him in finding a mediocre job.
Speaking fluent English but no Italian at all, Zakriya always wanted to go to Britain. He reached out to a famous Kurdish trafficker in Calais in France, who smuggled him to the UK in a refrigeration vehicle with beers and vegetables through the channel tunnel, an underwater tunnel between France and England.
"I stayed long enough inside the frozen fridge to suspect that I had already died of hypothermia. I had absolutely no feeling of my whole body and thought I will never get out of that frightening frozen tomb," Zakriya said.
Zakriya is now a waiter at a restaurant in London. His employer pays him cash in hand and sometimes forces him to work more than 12 hours a day. But he is not alone in this situation, most of that restaurant staff are undocumented irregular Arab migrants who are waiting to be granted a temporary or permanent legal status, which would give them the right to work or at least be paid the minimum wage in the UK.
Desperately, the Palestinian man is seeking asylum in Britain as a Syrian refugee who escaped the civil war erupted in 2011. He has hidden his real identity and faked an entire new story to guarantee more compassion and swift actions from the authorities.
'Who would care about a Palestinian now when we have thousands of troubled Syrians and Iraqis flocking to the UK to run from the brutality of the Islamic State? We are only seen as numbers when we seek refuge, and crazy politics dictate the criteria of that number. I'm just trying to fit myself into their criteria to be able to survive,' Zakariya mourned.
"I'm not a bad person. I encountered death and immense humiliation in search of what people call 'basic rights' and still haven't got them yet. Now, there is no way back, I will just continue the fight for as long as it takes because God is fair and I believe there should be a light at the end of that dim tunnel," Zakariya said.