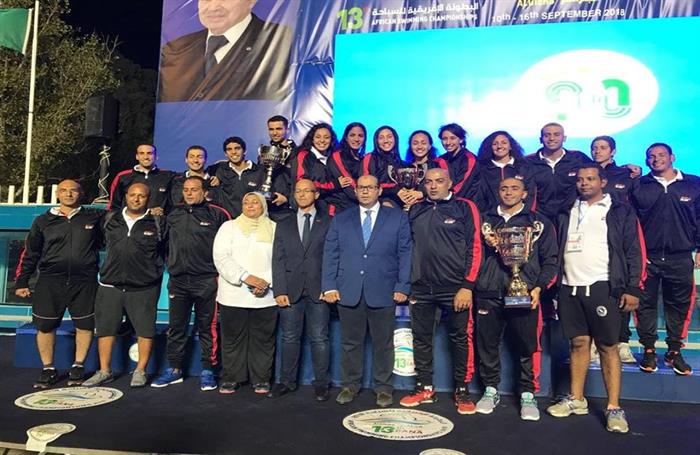 Egypt's national swimming team swept 44 medals during the the 13th edition of the CANA African Swimming and Open Water Championships,winning the tournament which took place in Algiers between 10 and 15 September reported Al-Ahram.
The team collected 27 gold, 14 silver and three bronze medals. The national team also won the tournament cup, after both gender teams came in first. The Egyptian men's team won 29 medals: 18 gold, 8 silver and three bronze, while the women's team won 17 medals including 11 gold and 6 silver.
Swimmer Mohamed Sami won the "Best Player" cup after earning 11 gold medals and one bronze. The national team won the "Best Team" award as well, winning by more than a 10 gold-medal-difference than their runner-up, South Africa.
Marwan al-Kammash achieved seven gold medals and one silver, with Ali Khalafallah following with four gold medals and two  silver. Abdel Rahman Sameh, won two gold and a bronze medal, while Ahmed Salem won one  gold and one silver. Marwan al-Amrawi won one gold and three silver medals.
Farida Osman topped the women's team winning five gold medals and three silver medals, while Hania Moro won four gold and two silver medals. Rowyaida Hashim achieved one gold and four silver medals, while Samiha Mohsen won three gold medals and three silver medals.
This isn't the first time Egyptian swimming champions have made their country proud.
Back in 2015 World Championships, the team broke eight  national swimming records, more than any other team in the tournament. In 2016 African Championship, the team placed third following South Africa and Algeria, winning a total of 41 medals: three gold, two silver and 18 bronze.
More recently, Marwan al-Qammash won ninth place for 400 meters freestyle with a new Egyptian record at 3:46.36 minutes in the 2017 FINA Aquatic Championships. The Egyptian team occupied the fifteenth place in the 100 meters relay with a new Egyptian record 3:18.23 minutes.