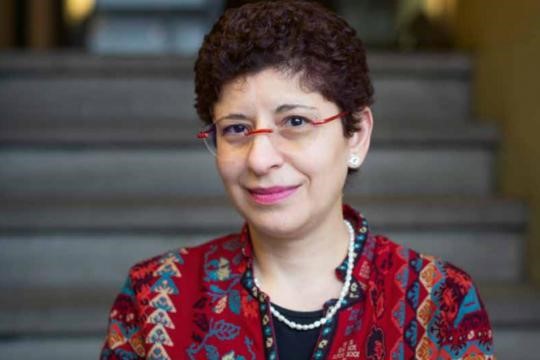 The Religions for Peace (RfP) conference in Lindau, Germany concluded on Friday with Egyptian university professor and UN advisor Azza Karam elected to head the organization – assuming her duties as secretary general of the RfP conference.
The RfP in partnership with the Foundation Peace Dialogue of the World Religions and Civil Society convened the RfP's 10th World Assembly from 20-23 August 2019, featuring the attendance of 900 representatives of religions around the world.
Every five to seven years, the RfP convenes an assembly for the purpose of forging a deep moral consensus on contemporary challenges, electing a new World Council and advancing multi-religious action across and beyond the Religions for Peace network.
Speaking to Al-Masry Al-Youm, Karam expressed delight in being chosen, saying that she is proud to be an Egyptian in this great position. She added that this choice takes into account the role of women globally, emphasizing their role in religious participation.
Karam said "I hope to put forward Egypt and the Arab world during my presidency as a leading role in supporting peaceful coexistence among all religions in the world."
She added that women must play a constructive role in this coexistence.
Karam said that the main objective of the conference is to bring together representatives of religions to participate in a major international conference organized by the organization.
She stressed that this conferences shows that despite our differences we can live peacefully.
Minister of Immigration and Egyptian Expatriate Affairs Nabila Makram said that she is proud that an Egyptian holds this position.
In statements to Al-Masry Al-Youm, Makram added that Karam is a living role model for successful Egyptian women and deserves this position. She has a great mission to communicate with religious leaders in all countries of the world, and has achievements within the United Nations, Makram pointed out.
Makram said that she was happy to see 900 representatives from all religions gathered in the same event, as this conference is an opportunity to exchange views and accept others.
She continued that she was happy to participate as a representative of the Egyptian government and was keen to highlight the role of the Egyptian state in the assurance of peaceful coexistence, while also highlighting the role of Egyptian women.
According to a statement on the RfP's official website, Karam is a Professor of Religion and Development at the Vrije Universiteit in Amsterdam, in The Netherlands – of which she is a citizen. She served as a Senior Advisor on Culture, at the United Nations Population Fund (UNFPA); and as Coordinator/Chair of the United Nations Inter-Agency Task Force on Religion and Development; where she coordinated engagement with members of a Global Interfaith Network for Population and Development with over 600 faith-based organizations from all regions of the world, representing all religions and inter-religious affiliation.
The Rfp is the world's largest and most representative multi-religious coalition. It advances common action among the world's religious communities for peace.
The origins of Religions for Peace date to 1961, when a handful of senior leaders from the world's major faith traditions began to explore the possibility of organizing a "religious summit." They felt the urgent need for believers around the world to take action toward achieving world peace.
The RfP convened for the first time in Kyoto, Japan, from 16 to 21 October 1970. For more than forty years since, the RfP has continued to bring together people of faith to cooperate for peace.
Religions for Peace works to transform violent conflict, advance human development, promote just and harmonious societies, and protect the earth.
The global Religions for Peace network comprises a World Council of senior religious leaders from all regions of the world; six regional inter-religious bodies and more than 90 national ones; and the Global Women of Faith Network and Global Interfaith Youth Network.
Edited translation from Al-Masry Al-Youm