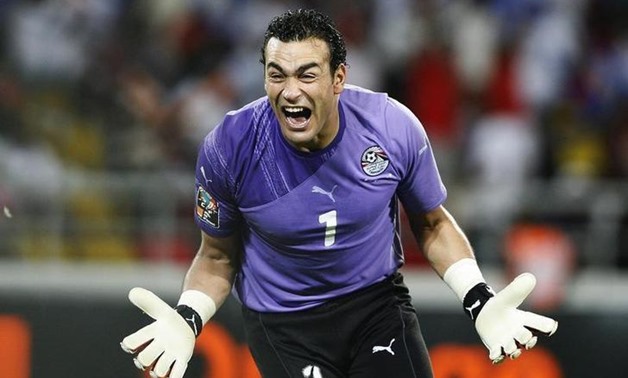 Egyptian goalkeeper Essam Al-Hadary made an honorable appearance in the World Cup, defending Egypt against Saudi Arabia in the final World Cup match for both countries after Egypt was eliminated by Russia and Uruguay.
Unfortunately, due to a fatal defensive error Egypt still conceded, losing 2-1.
Despite the disappointment, Egyptian fans could still find some pride thanks to the world records Al-Hadary broke, which has put his name on the international map once and for all.
At 43 years and 161 days, Al-Hadary became the oldest player to participate in the World Cup, breaking Colombian Faryd Mondragon's record (43 years and three days).
While this is an impressive enough record speaking volumes about the player's perseverance, Hadary had even more to give.
The goalkeeper broke another record by becoming the first African goalkeeper to fend off a penalty shot, throwing himself at a shot by Saudi Arabia's Fahad al-Muwallad in the first half of the game.
After the match, Hadary spoke to FIFA to express satisfaction with his achievements, "God helped me crown my football career with a participation in the World Cup," Hadary said, "This in itself is an accomplishment. We must benefit from both the positive and negative aspects. There are many lessons to learn."
Hadary also expressed optimism regarding the future of football in Egypt, calling on future generations not to disappoint, "Egypt's players must continue to work hard. I call on the next generation of players to work diligently to raise Egypt's profile, and to view what I achieved throughout my football history as an incentive for them and an example of persistence and sacrifice."
Marked as one of the best goalkeepers in the history of Egypt, Hadary began his international football career at the age of 17 with the Demyetta club, displaying an impressive performance even at a young age. He then moved to Al-Ahly in 1996 as Ahmed Shoubir's substitute goalkeeper.
He would play as main goalkeeper in several clubs before becoming the substitute goalkeeper for the National Egyptian Team, benched in favor of Nader al-Sayed. Four years later, he became the national team's main goalkeeper, participating in over 100 international matches over his career with the national team. The player won 38 titles and six personal achievements over his career before the World Cup, winning "Best Goalkeeper in African Championship" three times.
Hadary is also the goalkeeper who participated in the highest number of international matches, playing 154 matches, including Saudi Arabia's match. He is only the 7th player in Egypt's history to exceed 100 international matches.
Egypt participated in the World Cup for the first time since 1990, and was classified into Group A along with Saudi Arabia, Uruguay and Russia. The Egyptian team lost all of their matches, and left the tournament along with Saudi Arabia, disappointing fans.