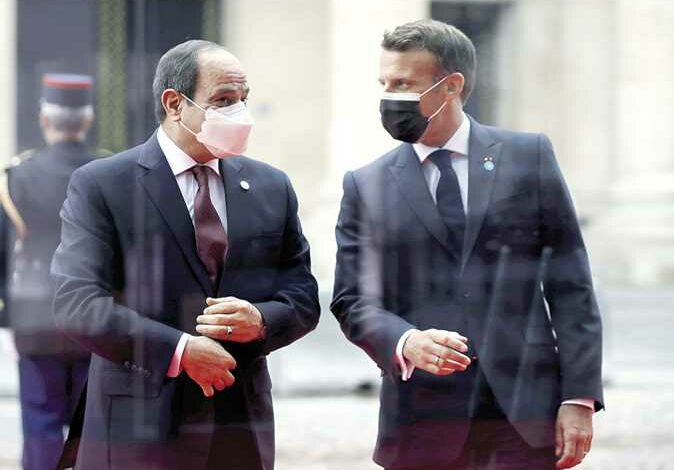 Egyptian President Abdel Fattah al-Sisi held talks at the Elysee Palace in Paris on Friday with French President Emmanuel Macron.
Sisi also held separate talks with Prime Minister Jean Castex, Minister of Economy and Finance Bruno Le Maire, and Minister of the Armed Forces of France Florence Parly.
President Sisi's meetings with French officials came on the sidelines of his current visit to Paris to participate in the international conference on Libya.
Egyptian presidential spokesperson Bassam Rady said that the meeting between Sisi and Macron discussed cooperation between the two countries in the railway sectors, the localization of the electric car industry, the development of ports, civil aviation, energy, water treatment, infrastructure and tourism.
President Macron affirmed France's keenness to support Egypt's measures to advance its economy and achieve comprehensive development – especially by increasing investments, transferring expertise and technology, and settling French industry taking into account the praises of international economic institutions regarding the Egyptian economy's performance.
Macron praised the qualitative development in bilateral relations between Egypt and France, stressing his country's desire to maximize bilateral cooperation during the coming period and enhance political coordination on various issues of common interest.
He noted that Egypt is one of France's most important partners in the Middle East, and an essential pillar of stability and security in the region.
President Sisi praised the distinguished level of bilateral and strategic relations between the two countries in various fields, especially at the political, economic, commercial and military levels.
He affirmed the Egyptian government's determination to create favorable conditions for French companies to increase their investments in Egypt and to overcome any obstacles they might face.
Sisi expressed his desire continue consulting with the French president on a regular basis, whether regarding issues of bilateral cooperation and deepening Egyptian-French partnership, or in connection with regional and international issues of common interest.
He also referred to the recent visit of Egyptian Prime Minister Mostafa Madbouly to France in October, and his meeting during the visit with senior French officials, as well as heads and officials of major French companies from various sectors to discuss the projects of these companies in Egypt.
The two presidents also praised the Egyptian-French military relations, which are among the most prominent features that distinguish the relations of the two countries after the conclusion of several important arms deals in recent years, while expressing interest to continue strengthening them.