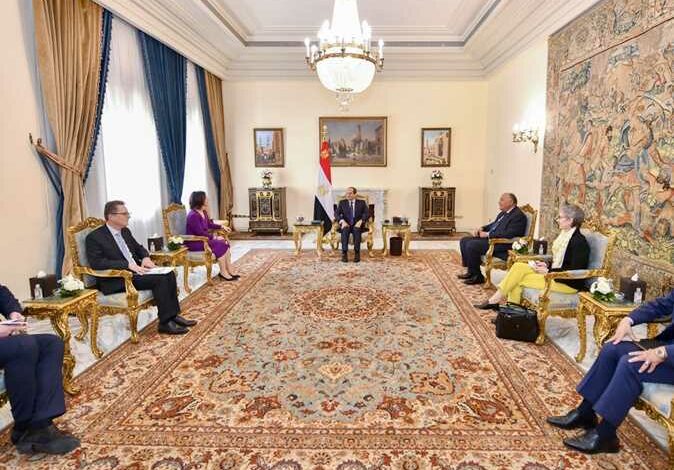 Egyptian President Abdel Fattah al-Sisi on Saturday received German Foreign Minister Annalena Baerbock, in the presence of Foreign Minister Sameh Shoukry and German Ambassador Frank Hartmann in Cairo.
Egypt values its close relations with Germany, Sisi said, and always aims to promote cooperation and mutual interests between the two countries in various areas – especially as Egypt sees its partnership with Germany as an essential hub for Egyptian relations with Europe.
Sisi noted Germany's strong and unprecedented involvement through its major companies in the ambitious development plans implemented by Egypt in the past years, and hopes to continue this existing cooperation.
Baerbock meanwhile expressed her country's pride in its close ties with Egypt, as it is the center of stability in the Middle East and Africa in addition to its primary role in combating terrorism, extremist ideologies, as well as illegal immigration.
Egypt plays an important humanitarian role by hosting millions of refugees, integrating them into society and providing them with all basic rights, she said.
Germany's new government is eager to support its relations with Egypt, she added.
The meeting witnessed the discussion of some economic, commercial, investment and military issues, where President Sisi welcomed the interest of German companies to pump their investments in Egypt.
Sisi said he desires to increase investments and further benefit from Germany's expertise and technology to localize industry in Egypt.
The spokesperson for the Egyptian Presidency Bassam Rady added that the meeting discussed developments related to a number of regional issues of common interest.
It aims to continue coordination and consultation between Egypt and Germany in this regard in order to face the existing challenges in the region, foremost of which is the Palestinian issue as well as the situation in Libya.
Both sides agreed to boost joint efforts to implement the decisions of the Berlin summit to settle the situation in Libya, thus contributing to the elimination of terrorism, preserving state resources and national institutions, and helping to restore the nation's stability.