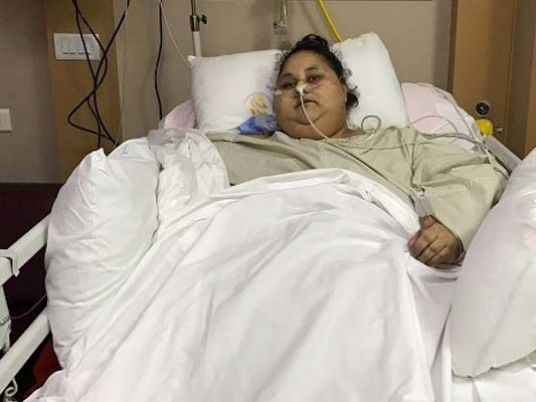 The sister of Eman Abd El Aty, an Egyptian woman thought to have been the world's heaviest, has accused doctors in India of lying about her weight loss, and using her sister's case as a tool for media propaganda, after doctors said that Eman will be ready to fly back to Egypt in a few weeks' time.
While doctors say she is ready to fly back to Egypt after she has lost around 250 kilograms, almost half her weight, her sister Shaimaa said on Monday in a video she posted on her social media account, Facebook, that Saifee hospital surgeon Muffazal Lakdawala and the hospitals are 'liars,' alleging that Eman was still unable to speak or move, and had not lost as much weight as the hospital was claiming.
The video posted on her Facebook profile has now gone viral.
Saifee Hospital chief operating officer told the Times of India on Monday that the medical opinion is that Eman now needs a series of rehabilitation services.
"As the rehab can be done anywhere, Eman can go back to Alexandria, but her sister is convinced that it's not going to be easy," the hospital's chief operating officer said.
Shaimaa thinks that E
man's health state is "unstable and delicate," as she still goes through frequent comas and has paralysis.
"Dr Lakdawala promised us when he first visited in Alexandria that he will not leave Eman unless he succesfully treats her, and now they are suddenly advising for her discharge after the hospital got the media recognition they were looking for," Shaimaa said in the video she posted yesterday.
"The oxygen level is still not normal in her body. Eman has to wear an oxygen mask almost all the time. There is a tube from her nose to her stomach because she can't eat or drink well from her mouth, how will I take care of her in this state?" she said.
Throughout the past few weeks, doctors and Eman's family have remained in a deadlock over her future course of treatment.
"Eman is now a regular patient. Her obesity-related problems were under control with medications and she wasn't attached to any machines. It was logical for us to plan her return home. The hospital had intended to send Eman back when she reached 250kg, with plans to get her back to India after a year for a second-stage surgery in case she didn't lose adequate weight," the Saifee Hospital chief operating officer told the Times of India on Monday.
Shaimaa however asserts that Eman did not lose that much weight, and that most of the kilograms she lost are merely water.
"The numbers the doctors are saying are absurd and impossible, any surgeon or nutrionist can verify that no one can lose more than 250 kilograms in a few months' time," she said.
"They did not even weigh her before and after surgery. If doctors have proof of her weight loss, show us the numbers before and after," Shaimaa added.
Shaimaa claims that similar cases to Eman's in other parts of the world have taken almost two years to lose weight and fully recover.
"But for Eman, just after a month or two here in India, the doctors say that I can take my sister back. I asked them how, as she is still very heavy, and if anything happens to her in Egypt, how can I go to a hospital there?"
Lakdawala, the doctor who is leading her case, said that they have treated Eman from obesity in the best possible way.
"We have treated the obesity condition in the best possible way. But Eman suffers from other ailments, especially neurological condition, that is beyond my expertise," Lakdawala said. He added that a neurologist will examine Eman and check reasons behind her paralysis attack and seizures.
Shaimaa however said that the hospital is not equipped with a CT scan that can handle Eman's weight. "Eman can not leave this place, she is helpless," she said, as she was crying.
Eman suffered a stroke at the age of 11 and her weight meant she was unable to leave her home for 25 years.
She was flown in a special aircraft in January to Mumbai's Saifee hospital where she underwent bariatric surgery later in March by a team of doctors.