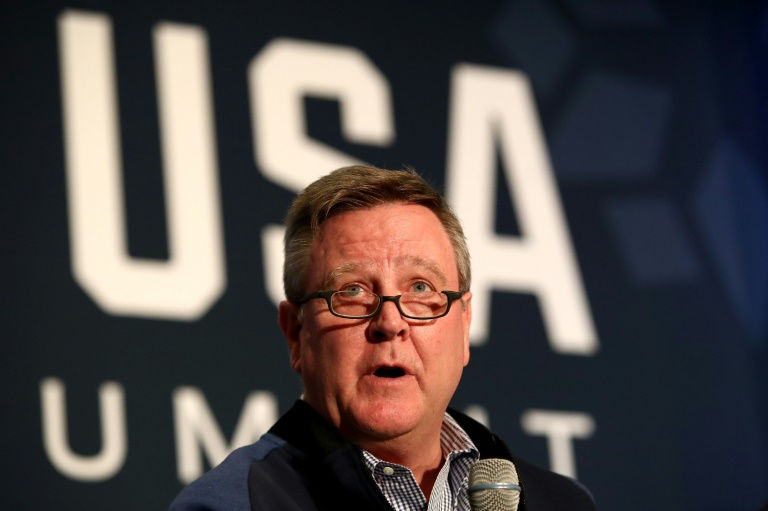 The entire USA Gymnastics board of directors will resign in the wake of a sex abuse scandal, as part of the organization's decision Friday to comply with US Olympic Committee requirements to avoid decertification.
After former US Olympic team doctor Larry Nassar was jailed for up to 175 years for sexual abuse of girls and young women under the guise of treatment, USA Gymnastics promised to meet six requirements outlined by the USOC to remain the sport's national governing body.
"USA Gymnastics will comply with the USOC requirements," read the organization's statement.
Nassar's victims included Olympic champions Simone Biles, Aly Raisman, Gabby Douglas, Jordyn Wieber and McKayla Maroney. More than 150 women spoke out over a sentencing hearing in Michigan that lasted more than a week.
A trio of USA Gymnastics board of directors top executives — chairman Paul Parilla, vice chairman Jay Binder and treasurer Bitsy Kelley — already stepped down Monday following stinging criticism by victims of the organization's handling of the Nassar case.
USOC chief executive Scott Blackmun outlined Thursday what USA Gymnastics must do to remain a governing body, the first of those mandates being for the entire board to resign by the end of the month or face "immediate termination proceedings."
An interim board including athlete representatives, and not including any ousted directors, would be appointed in its place, with a permanent board elected within 12 months.
USA Gymnastics must invite a USOC liaison to attend every board meeting.
The USOC is already conducting an independent inquiry into the scandal, although some of the victims have criticized the USOC as well for inaction that allowed Nassar to abuse girls and women unabated for so long.
"Every athlete connected in any way with USAG must feel safe, supported and encouraged to speak freely about threats to their safety," Blackmun wrote. "USAG's culture must foster this in all ways."
Other steps included full cooperation with the independent investigation into the Nassar scandal. All staff and board members of USA Gymnastics would also need to complete training courses at the US Center for Safe Sport.
Within six months, staff and board members would also need to complete a course in ethics training.
"We do not base these requirements on any knowledge that any individual USAG staff or board members had a role in fostering or obscuring Nassar's actions," Blackmun wrote.
"Our position comes from a clear sense that USAG culture needs fundamental rebuilding."