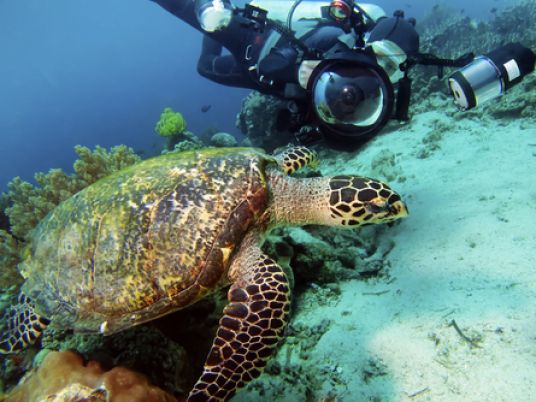 Environmentalists in the Red Sea resort of Hughada are hoping to build an "underwater museum" that will simultaneously protect the coastline's wildlife and encourage responsible tourism in the area, according to Al-Watan newspaper.
A preliminary proposal has been submitted to government officials by Hassan Fouad al-Tayeb, the director of the Rescue and Environmental Protection Society (REPS), which campaigns on behalf of the natural environment in the Red Sea.
The proposed museum would be constructed off the Hurghada coast and would include replica pharaonic statues. The statues and associated structures would provide homes for marine life, including a wide variety of fish, such as sharks, which are common in the Red Sea.
The underwater museum concept is intended to act as a draw to tourists, while at the same time encouraging the preservation of marine habitats, such as coral reefs, which are essential to the rich ecology of the Red Sea coast.
While the Red Sea has long attracted scuba divers and snorkelers, it is hoped that an underwater museum would open up the world of coral reefs and marine life to less adventurous visitors. The proposal includes glass tunnels that tourists would walk through in order to get a close-up view of underwater life.
The preliminary proposal has so far been submitted to the ministries of tourism and environment, the Cabinet and the Red Sea governorate administration. The board of REPS is simultaneously seeking official approval for the project and seeking advice from scientific experts on environmental impact and implementation.
Bashar Abu Taleb, head of the trade union of tour guides for the Red Sea governorate, has leant his support to the proposal. Taleb said that any developments that benefit the natural environment and marine life will help to support the tourism industry.
Hurghada is among those Egyptian tourism sites hit by falling numbers of foreign tourists in recent years, due to both political turmoil and a series of terrorist attacks.
Preparations are already under way to construct an underwater museum in Alexandria. Archaeologists have long been revealing and conserving thousands of pharaonic objects discovered on the site of the ancient city, which was submerged due to an earthquake.
Egyptian antiquities officials hope to be able to transform the area into a museum, allowing tourists and Egyptology enthusiasts access to the sunken treasures for the first time.