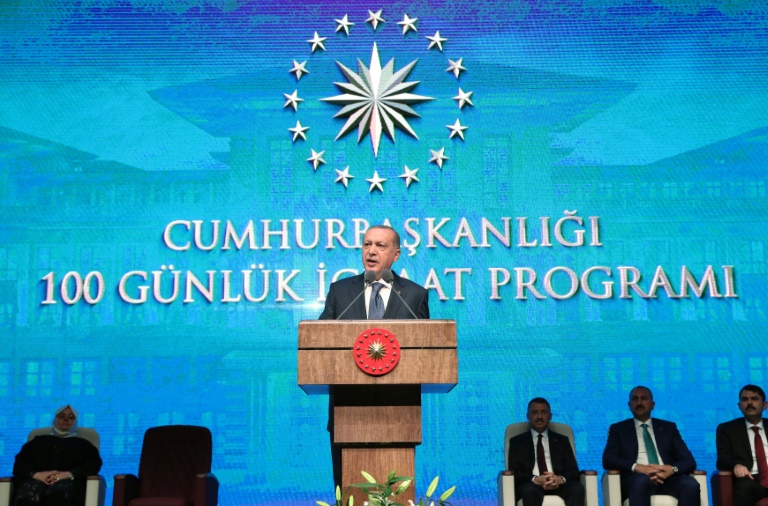 President Recep Tayyip Erdogan on Saturday said Turkey would impose sanctions on two US officials in retaliation for a similar move by Washington in a row over the detention of an American pastor.
Turkey's holding of pastor Andrew Brunson on terror-related charges for almost two years has sparked one of the most intense crises between the NATO allies in years.
But in his first comments on the dispute since Washington imposed the sanctions on Wednesday, Erdogan also appeared keen to ward off any further escalation by saying that neither side had an interest in a "lose-lose" scenario.
"Today I will give our friends instructions to freeze the assets in Turkey of the American justice and interior ministers, if they have any (such assets)," Erdogan said in a televised speech.
He did not specify to which members of the US administration he was referring.
The US attorney general is Jeff Sessions and while the United States does not have an interior ministry similar to Turkey, the Secretary of the Interior is Ryan Zinke and Secretary of the Department of Homeland Security is Kirstjen Nielsen.
'Intense diplomacy'
Erdogan's announcement was a tit-for-tat response to Washington's decision to impose sanctions on Turkish Interior Minister Suleyman Soylu and Justice Minister Abdulhamit Gul.
The sanctions freeze any property or assets on US soil held by the two ministers, and bar US citizens from doing business with them.
Both Turkish ministers have denied having any assets in the US and it is highly unlikely the American officials would have assets in Turkey, making the sanctions largely symbolic.
But analysts say the row could be hugely damaging for Turkey's fragile economy and tougher measures could be imposed if Brunson is not freed.
The Turkish lira, which has plunged in value this year, has already reached the five to the dollar mark for the first time in history over the sanctions.
"There is a risk of more sanctions to come… which could hit more directly at the heart of Turkish government interests and which have the potential to cause a run on the lira," Anthony Skinner, director of Middle East and North Africa at risk management consultants Verisk Maplecroft, told AFP.
He said Turkey's "Achilles' heal" was its exposure to foreign portfolio investments and credit.
And Erdogan appeared to indicate that he did not want the crisis to escalate further to full-scale economic sanctions.
"We don't want to be a party to lose-lose games. Moving political and judicial disputes into an economic dimension will be harmful for both sides," Erdogan said.
US Secretary of State Mike Pompeo, who discussed the issue with Turkish counterpart Mevlut Cavusoglu on Friday, said he was "hopeful" of progress in the "days and weeks to come".
Erdogan said diplomatic channels were working "very intensely" and added he thought "a significant part of the issues of discord can soon be left behind".
'High economic stakes'
Brunson was moved to house arrest last week following nearly two years in jail on terror-related charges but the change only increased tensions.
President Donald Trump and his Vice President Mike Pence, who shares Brunson's evangelical Christian faith, have made his release and return back to his family in the United States a priority.
The US Treasury implemented the sanctions against the Turkish ministers under the 2016 Global Magnitsky Act named after Russian lawyer Sergei Magnitsky, who died in a Moscow jail, and which allows the US to sanction foreign officials implicated in rights abuses.
"Those who think that they can make Turkey take a step back with threatening language and nonsense sanctions don't know this nation at all," commented Erdogan.
Ankara and Washington are also at odds over American support for a Kurdish militia in Syria and the United States is extremely wary over Turkey's growing cooperation with Russia and its deal to buy Russian air defense systems.
Two Turkish employees of US consulates in Turkey are also currently in jail on terror charges and another is under house arrest.
Turkey is meanwhile furious the United States has failed to extradite Fethullah Gulen, the alleged mastermind of the 2016 failed coup bid who lives in rural Pennsylvania, to face trial.
"Given the high economic stakes for Turkey, some kind of agreement is more likely than not," said Skinner. "Erdogan has an unrivaled track-record of playing with fire, but he too knows when he has tracked too far across the coals."