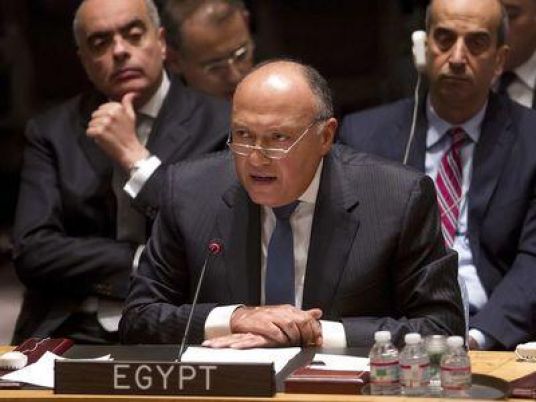 Egyptian Foreign Minister Sameh Shoukry said on Thursday that some European rights groups and media organizations deliberately use incorrect information about the human rights situation in the country, adding that Egypt will not accept any interference in its internal affairs by foreign parties.
His comments came during a meeting with his French counterpart Jean-Yves Le Drian on the sidelines of the last day of the World Youth Forum in Sharm el-Sheikh.
The minister highlighted Egypt's concern to safeguard human rights, noting that some European entities ignore the steps taken by the Egyptian government to foster freedoms, women rights and the pardoning of detainees.
"I call on these entities not to go beyond misleading information on the internal conditions inside Egypt," he said.
A number of European countries recently released a joint statement on the British government's website criticizing the ongoing detention of Egyptian human rights lawyer Ibrahim Metwaly Hegazy who is helping investigate the murder of Italian PhD researcher Giulio Regeni.
In a statement, Germany, Italy, the Netherlands, Britain and Canada said they were "deeply concerned" at the detention of Hegazy.
"We are concerned at the detention conditions that Ibrahim Metwaly Hegazy is reportedly enduring, and continue to call for transparency on prison conditions in Egypt," the statement read.
Metwaly was investigating the abduction and death of Regeni in Egypt when in September he was arrested at the airport on charges of establishing an illegal group and disseminating false news while heading to Geneva to attend a UN conference on enforced disappearances.