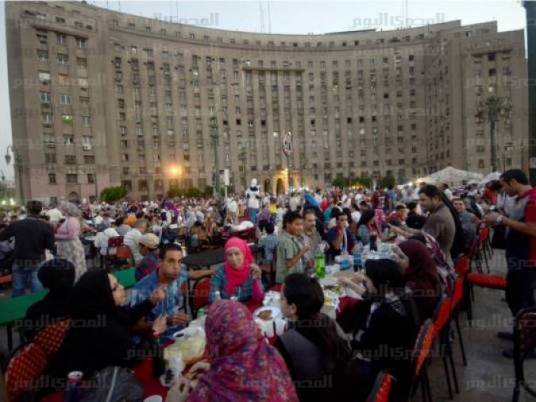 It's the first day of Ramadan, but before you roll up your sleeves to taste the holy month's mouth-watering traditional foods, note down these nutritional tips to avoid buying a larger outfit by the time Eid al-Fitr comes around.
Egypt Independent interviewed nutrition expert Linda Gad, who gave some important tips on how to keep your body healthy and light by organizing your food in-take, which is essential to avoid indigestion and preventing too much weight gain.
"The main thing is to eat everything, but with a special order and in small quantities so as not to deprive the body from the main elements it needs," Gad said.
She recommendsIftar (breaking the fast) with a glass of water or Rayeb milk first, along with three dates, since they provide the body with enough sugar and liquids after being deprived for over 15 hours of fasting.
Gad next suggests eating soup of any kind, but most preferably veggies as they best provide the body with a good percentage of vitamins and water, helping to fill your stomach. Eating salad is the next step, as they help to refresh the body with minerals and more vitamins alongside what was taken from the veggies, all without any fats.
You can then eat any kind of proteins including chicken, beef or fish, though it's best that it's either grilled or oven-baked and that fried food consumption is minimized as much as possible.
To finish your Iftar, Gad recommends food containing carbohydrates such as rice and pasta, but that it's best to pick only one. "It's better to finish your meal with carbs to reduce your intake of them as you've already eaten a good amount of veggies and proteins so you're nearly full," she said.
Gad advises people to stop eating for 3 hours after Iftar, drinking during that time only warm and sugarless herbs to let the body peacefully disgust the proteins. She added that people must avoid any Ramadan drinks in this period, such as Tamr Hindy, Sobia and Amaraldin, as they contain huge amounts of sugar.
"Proteins take almost three hours to be fully digested so if you drink more sugary things the body will be automatically directed to digest the sugar and the proteins won't be completely digested, which is why people experience discomfort, gases and stomach bloating," she said.
Gad also warned against any naps right after eating, "Please don't eat and then then sleep, since it will weigh badly on your body and health."
Once the three hours have passed, you're free to eat the Ramadan pastries in a modest amount alongside fruits, though Gad recommends eating more fruits than sweets.
Concerning the sohour (pre-dawn meal), Gad recommends to have it at 2 am, and that it must contain four main elements; beans/Egyptian foul, eggs, cucumber and yogurt. These will minimize feelings of hunger and thirst during fasting hours.
"Eggs and foul are rich with proteins that will satisfy the body during the daytime and people will have a good feeling of being stuffed and full, while cucumber and yogurt are good source of water the body needs during the daytime," she said.
Gad said it's better to drink 8 glasses of water throughout the evening hours from Iftar to sohour, and to avoid drinking all of them in one time especially people prefer to drink huge amounts of water during sohour because the body will get them out instantly through urine.
Gad also denounced the traditional thought that drinking tea in sohour will avoid thirst during the daytime, saying that tea is diuretic (increases water expelled in urine) and that the body needs a good amount of water during fasting hours. She recommends having tea in the middle of the period after Iftar.