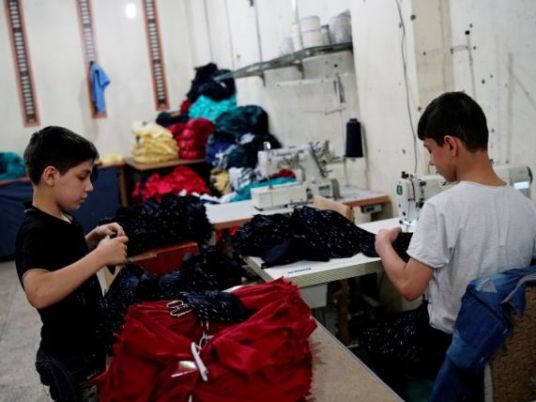 Gray is a dying town, its residents lament. Big businesses moved away taking jobs with them. Now many stores lie vacant, fading "to rent" signs in the windows.
But for one Syrian family, the town's picturesque streets, red-tiled rooftops and quiet river walks offers hope of rebuilding their shattered lives, away from the fear of death lurking around every corner in their homeland.
"I will start to love life another time," said 43-year-old oncologist Abd Alwahab Alahamad. "Because sometimes (in the) last two years, I thought it will be very difficult to stay alive."
Like hundreds of thousands before them, the Alahamads risked everything to escape war and the dark brutality of the Islamic State group, embarking on a perilous and uncertain journey through checkpoints, bombs and a nightmarish sea crossing to Greece.
But after months of uncertainty and doubt, their luck began to change. Alahamad, his wife Iman Mshanati, 33, and their three children — 5-year-old Nora, 2-year-old Ahmed and baby Layan, born in Greece six months ago — were among the fortunate few accepted for European relocation.
Launched in late 2015, the program was designed to relieve pressure on Greece and Italy, the main entry points for more than a million people fleeing into the European Union. But it has come under criticism for moving too slowly.
Applicants can't choose their destination country. Neither the Russian-trained doctor nor his wife, a nutritionist and beautician, had ever been to France, which has taken in more people than any other country that's part of the program.
"We are going into the unknown; We do not know the city, the people, nothing," Mshanti said in a small apartment in Athens the day before their flight to Paris, three suitcases neatly packed on the floor. "But we hear from people who had left before us that they are happy, and we felt relieved."
The Alahamads never intended to leave Syria. They didn't expect 2011 anti-government street protests to turn into a full-blown civil war.
"At first everybody thought — not only me — that it will finish tomorrow, the day after tomorrow," Alahamad said of the early days of the rebellion.
In 2014, warned government forces were looking for him after he treated a man for gunshot wounds, Alahamad fled Damascus, moving his family east to near the city of Deir-e-Zor.
The war followed.
IS overran the area. Relentless bombings killed relatives and friends. When rockets landed near their home, Alahamad decided the time had come.
"I left. I left everything behind," he said.
With two young children and a pregnant wife, the journey was harrowing. The nighttime treks and border crossing, the smugglers, the truck ride with nearly 100 others. But nothing compared to the boat crossing from Turkey to Greece. A terrified Nora clutched her father's hand, convinced they would die.
They arrived in Greece in early March. Alahamad spent months as a volunteer doctor in refugee camps housing some of the more than 62,000 people stranded in Greece by border closures and an EU-Turkey deal intended to stem the flow of migrants into Europe. The family thought of staying, but Greece's asylum system was overwhelmed.
So they applied for relocation. September brought the news they had been waiting for: their application was successful.
The Alahamads were assigned to Gray, a pretty town of about 6,000 people on the River Saone. They would be part of the second group sent there from Greece. The first — five families — arrived in March.
To facilitate integration, Gray Mayor Christophe Laurencot stipulated the town would accept only families, and each assigned a social worker. Housing is provided during the asylum application, a process that takes about four months in the fast-track relocation procedure, said Guillaume Germain, regional director of the French Immigration and Integration Office.
But small, close-knit towns do not always embrace outsiders. Laurencot decided the best tactic was transparency, and informed residents about the program before the first arrivals in March.
"We had reactions straight away," he said. "Good, less good or bad, I had them all." There were overwhelmingly generous offers from some, while others questioned why the state should help foreigners.
But, Laurencot said, "France is after all a country of hosts, a country of reception, a welcoming country. And it's not enough to say it; we had to do it."
So far, the mayor's tactic appears to be working.
"We see them pass by, there are no worries on that account, everything is going well," said Stephanie Vanhee, who runs an optical shop in Gray. Toddler Ahmed squealed with joy at being allowed to pet her puppy, Morito, during the family's first tour around town. "It must be done, you know. We must receive them."
Clothing store owner Roberte Fouillot said there was some initial reticence to the idea, what with the recent terror attacks and demands on social services by needy French people. But news of the Syrian war shocked her.
"These poor kids, these poor families who are suffering — it's unacceptable in our day and age," Fouillot said.
As for the issue of integration, Fouillot didn't foresee problems.
"They are people like everyone else. We all have our religion," she said. "Today, if everyone reached out to each other, well, there might be less wars, less misery in the world."