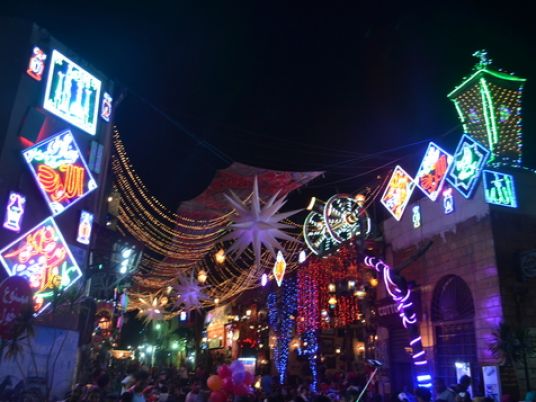 In Cairo the essence of Ramadan is tangible in the air and it seems that the rhythm of the city has been entirely reset. The city goes quiet and deserted around Iftar time and becomes a lot more crowded late at night when people stay out to have their Sohour.
Nothing, however, is quite like the feeling of Ramadan in Islamic Cairo. And that's no surprise, because, after all, Ramadan is one of the pillars of Islam. If you were to look down at Al-Moez Street from above, you would see masses of cotton candy, like little pink and white clouds. Mixed among them would be an abundance of selfie sticks also, as visitors to the area seek to record the action.
It's eleven p.m. and the streets are heaving. Passing through the gates of the Old City is like entering an alternate reality. So many people are strolling up and down Al-Moez Street — which runs like a river through the center of Islamic Cairo — that it can best be described as a horde.
The street is ablaze with every possible color imaginable: neon lights in the forms of lanterns, crescent moons, and other Ramadan-associated imagery. There is an air of collective celebration in the streets with residents sitting out in their balconies, smoking shisha and looking down on the visitors as they browse theshops. Meanwhile, the shop-keepers stay open for business way past their normal hours to cater for the festivities.
Rabab, and Egyptian girl in her mid-twenties, runs a souvenir store with her father. Straining to be heard over the ruckus from the street, she says: "Every year, when Ramadan comes, it seems like the whole world flips upside down, as you can see. I'm attending to the shop alone right now. My father went upstairs to sleep so he can take over for me in a few hours. The people never leave, and business is good when it comes to souvenirs. People come and stay here and wander around, and it seems like for every person who leaves through that gate, two more come in — even up until the fajr prayer. All for Ramadan."
Coffee shops
Such a fever-pitch of celebration can be found nowhere else in Cairo, and certainly the decorations in other parts of the city pale in comparison — if not in taste, definitely in fervor. One key attraction, though, are the coffee shops on Al-Moez Street, the chairs spilling out onto the street as people struggle to find places to sit and rest or have a coffee.

Musicians entertain guests in a cafe at Ramadan in Al-Moez Street, Islamic Cairo.

Among the more famous coffees in the area is called "El Lord", which becomes something of an attraction during Ramadan, cultivating its reputation over the years.
Hassan Ismail works at El Lord as a waiter. "I eat iftar and take a two-hour nap, and then I come here. People start showing up at around 9 p.m. and by 11, the entire street is buzzing," he says.
"If you noticed on your way in, there are people waiting to be seated just next to the cafe. We usually only serve drinks: tea, coffee, fresh juices etc., but during Ramadan customers will order sandwiches or grilled chicken and we have someone who goes to shops in the area and brings the customers the food they ordered," he continues.
"This happens mostly around sohour, and some customers order a large meal for up to 20 people just before fajr. It's Ramadan — people stay awake to wait for sohour anyway, so they just come down here for a change and they have a really good time. It's tiring but it's amazing to see so many people celebrating."
Arts and crafts
Craftsmen specializing in metal souvenirs, lanterns or jewellry will make special items just for the month of Ramadan, staying up late in their workshops to craft whatever seems likely to sell.
According to several shop-keepers in the area, bronze and silver items are very popular and they end up making more of those throughout the month. Most of the items on sale bear some form of Ramadan imagery, such as crescents or lanterns.