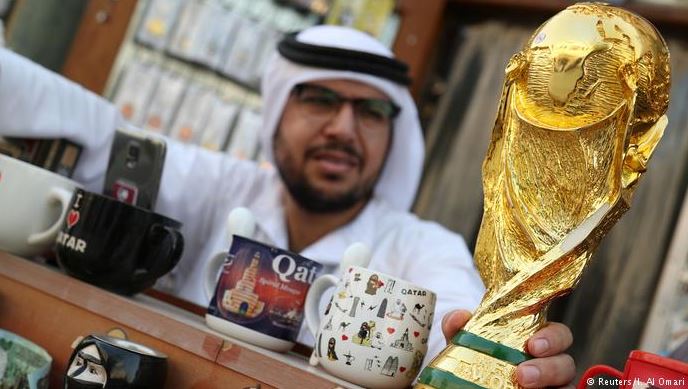 Gianni Infantino has asked Qatar if it would share games with Saudi Arabia and other rival countries in the Gulf. Saudi Arabia has been leading a blockade of the small desert country since 2017.
The head of world football has asked the emir of Qatar whether he would allow rival Middle Eastern countries to host extra World Cup games during the 2022 World Cup.
"This is something that would probably be a nice message," FIFA President Gianni Infantino said.
Qatar was awarded the rights to host the 2022 World Cup in 2010 and has been planning to host 32 national teams during the tournament.
But Infantino asked Sheikh Tamim bin Hamad Al Thani of Qatar if the number of teams could expand to 48 and other countries in the region, including Saudi Arabia, Bahrain and the United Arab Emirates, could host some of the extra games.
Those countries cut off diplomatic relations with Qatar in 2017, accusing it of financing terrorism, and they continue to uphold an economic blockade of the small Gulf country.
Look to North America
Infantino said the emir was open to the idea, but acknowledged that diplomatic difficulties could preclude any expansion to those countries.
He said the plan could work if the dispute subsided, using the United States, Canada, and Mexico, which jointly applied to host the 2026 World Cup, as an example.
"Relations were a little bit tense right between these countries," he said, referring to a trade dispute between the North American countries that ended shortly after their joint World Cup bid won. "It's something that's comparable with the Gulf region."
Qatar has already announced changes to traditional aspects of the World Cup. It opted to host the games in November and December instead of June and July and condense the tournament's length to ensure it did not clash with European leagues' football schedules.
Play football, not economic war
Qatar's organizing committee said no formal consultations on the expansion proposal had begun.
"As of today, we're hosting a 32 team World Cup," said Al Khater, the committee's deputy secretary general.
Infinitino was optimistic the tournament would have a positive impact on the region regardless of his proposal.
"This is the first World Cup in the Middle East and is a perfect opportunity to bring people together and contribute to the process of healing," he said.
amp/bw (AP, dpa, AFP)